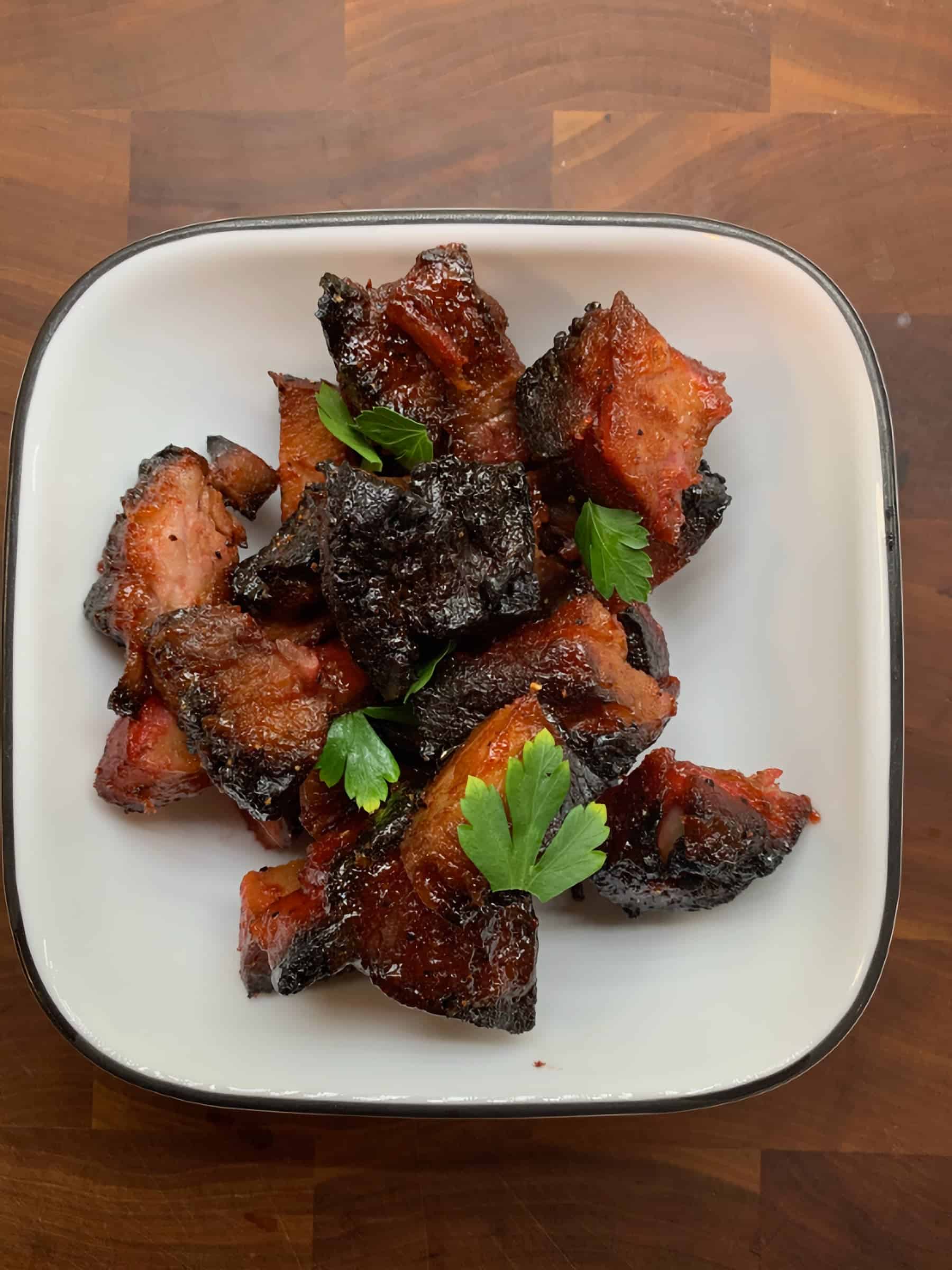 Want to Learn How to Make These Wonderfully Tender Sous Vide Country Style Pork Ribs On The Cheap? My Nerdy Almost No Bake Process is Basically Hands Off Cooking at its Best!
I am always up for experimenting when it comes to cooking. Whether it is with spices, ingredients, gadgets or different cooking methods. My nerdy twist to these scrumptious Chinese boneless ribs is in my method of cooking. Best of all you can use these sous vide pork ribs leftovers to make Pork Fried Rice. You can use your own favorite spices, BBQ or other marinade, I just chose to try to copycat my local Chinese restaurant's boneless ribs.
This recipe is for my favorite Chinese Take out – but you can use any BBQ sauce, fresh herbs, garlic, olive oil, apples you name it in the sous vide vacuum bag while these pork ribs are cooking.
Sous Vide is super new to me so I really wanted to flex my culinary muscles. I wanted to see if I was able to create the most tender pork ribs along with that yummy char from the broiler. My favorite part of Chinese boneless ribs where I used to get them almost on a daily basis for lunch was the charred ends. Sweet bites of ribs that have some fat and the flavor of the charred ends mixed with the sauce is heaven.
Cooking the pork ribs first in a bath of hot water with my new sous vide machine almost guarantees tender pork. Why not test this new almost hands off method and see if I am right? Note: If you do not have a Sous Vide machine you can use your oven and bake the ribs at 225F for 4 hours until tender, then carry on with the charring process.
Here Is The Nerdy Madness Process I Used.
For the pork, I had 3 lbs of boneless country ribs I found on sale cheap at my local grocery store. I paid something like $6, not bad. Buying the ribs boneless means no messing around with that membrane on the back of the ribs that is definitely not fun to remove. Time saver.
Next I was told by a friend about packet of marinade called NOH Chinese BBQ Char Siu. I was able to find it at an asian market near my house. I picked up a few packets of it the other day for something like $1.79. Mix the powder marinade with 1/2 cup of water. Next you pour it over the pork in a big plastic ziplock bag and marinade 24hours.
I will have to warn you, I was super surprised about the color of this marinade. Seriously its like super pink like lemonade lol. This marinade gives you that reddish pink you see around roast pork in Chinese food. It also contains spices to tenderize and flavor the meat.
I put my pork in a vacuum bag with the marinade then used my food-saver to lock in the flavors. This vacuum bag is great for marinades because when you vacuum out the air it forces the marinade into the pores of the meat. Additionally sous vide means "under vacuum" so this bag then doubles as the bag for sous vide. Winner winner…
Let The Sous Vide Machine Do All The Work Cooking These Boneless Country Ribs
After 24 hours in this pink lemonade marinade, its time to test my nerdy sous vide technique to get this pork super tender. My goal is 6 hours in the 165f degree bath before letting my broiler do the rest of the work. 
To Sous Vide, I took out a large pot, filled it with water, set the sous vide machine to 165f. Once up to temp, then dropped the vacuum bagged pork in the water and walked away. After 6 hours the pork was perfectly cooked and tender. I used my trusty Inkbird Smart Sous Vide machine.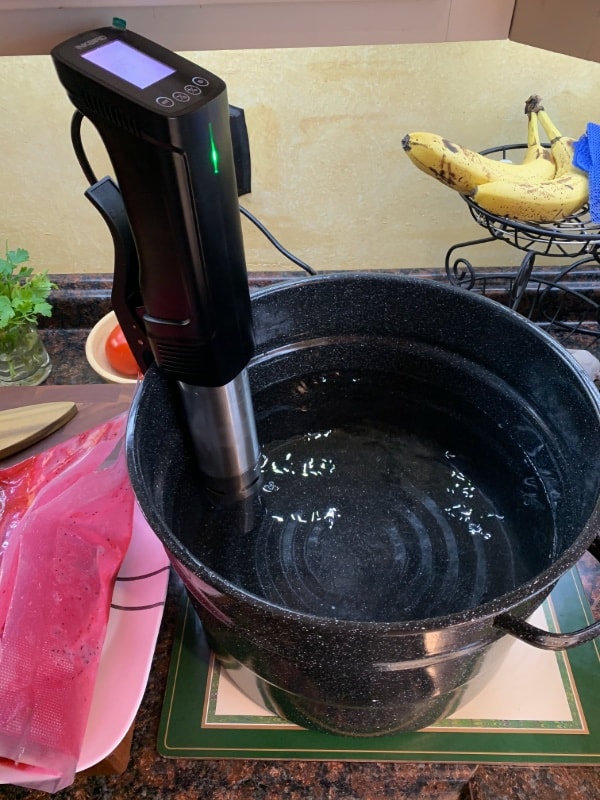 Next, I took out a sheet pan, lined it with aluminum foil then topped with a wire rack. The wire rack ensures that air can get under the pork and make it crispy all the way around. Next take the pork out of the bags and cut it up into 2" pieces and placed in a mixing bowl.
And Now For The Next Secret That Makes These Boneless Ribs Caramelize and Char
Here is the second secret part of this amazing ribs recipe. The BBQ sauce. Using the sauce to coat the pork and ensure that it gets charred and tastes like heaven. At the same asian food market I bought Lee Kum Kee Char Siu sauce. This sauce is what layers in that yummy takeout Chinese ribs taste we all know and love. I used half of the jar of sauce and to amp up the sweet flavors. I drizzled honey over the pork in the bowl and mixed it up.
Next, Preheat your oven to 450F, then arrange the bits of pork on top of the wire rack in a single layer. Once oven is up to temperature, place the sheet pan on the center rack and roast for about 35 minutes. Take the ribs out of the oven when they are charred to your liking.
Thats it.. done and on the cheap! This made about 6 servings for approximately $12 not bad huh?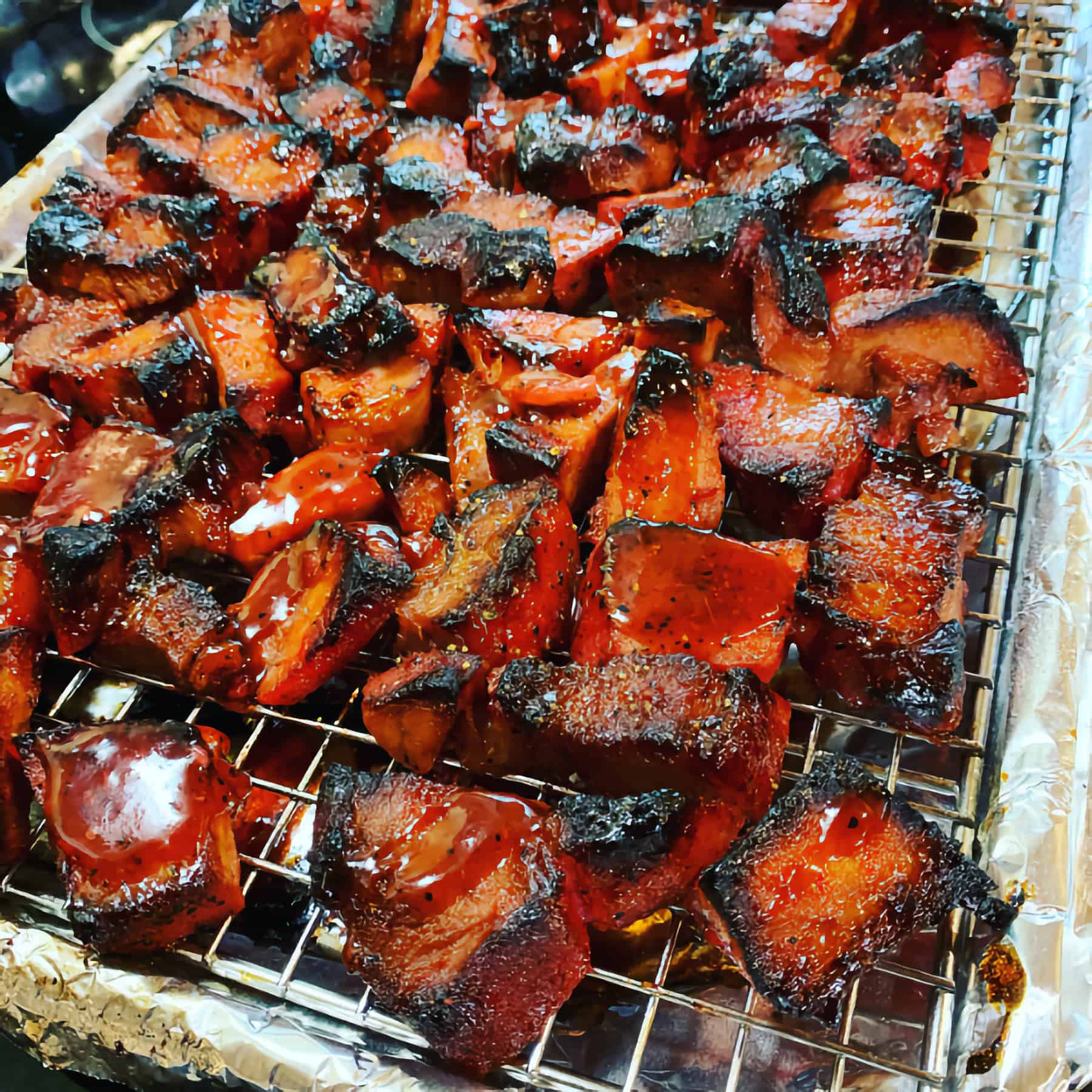 More Recipes You May Love:
Sous Vide Country Style Boneless Pork Ribs Recipe Below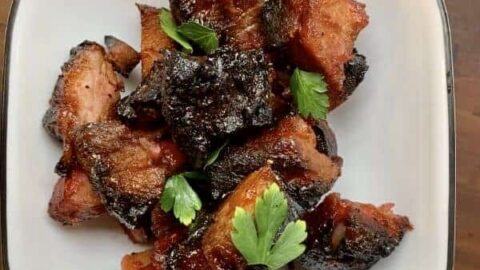 Yield:

6 Servings
Sous Vide Boneless Pork Ribs
Total Time:
1 day
2 hours
Want to learn how to make these wonderful spot on ribs on the cheap? My nerdy almost no bake process is basically hands off cooking at its best! Use regular BBQ Sauce or try my Chinese Take Out Ribs recipe!
I am always up for experimenting when it comes to cooking whether it is with spices, ingredients, gadgets and different cooking methods. My nerdy twist to these scrumptious sous vide boneless ribs that have become a popular menu item on most Chinese take out places is in the method of cooking. Sous Vide Boneless Pork Ribs
Ingredients
3 lbs of Boneless Pork Country RIbs
2 Packets of NOH Chinese Char Siu Marinade Mix
1 Cup Water
12oz Lee Kum Kee Char Siu Sauce
3oz Honey for Drizzling
Instructions
Mix 2 Packets of NOH Marinade with 1 cup of water and place ribs into a ziplock or vacuum bag, marinade for 18-24 hours in the fridge
Preheat water in a large pot with the sous vide machine to 165F, drop ribs in the sealed bags into the water and allow to cook for 6 hours.
Preheat oven to 450F
Line a aluminum sheet pan with foil and top with a wire rack
Cut ribs into 2 inch strips or cubes and place in a mixing bowl
Take 12 oz of Kee Kum Lee Char Siu sauce and coat all pieces of ribs, then drizzle with honey
Layer ribs onto the sheet pan on the rack in a single layer for even cooking
Place sheet pan on the middle rack of the preheated oven and cook for 30-35 minutes until the ribs have a nice char
Recommended Products
If you enjoyed my recipe, please help support my blog by checking out my recommended products. Some of the links below are affiliate links. This means that, at zero cost to you, I will earn an affiliate commission if you click through the link and finalize a purchase. Thank you for your support!