You Will Fall in Love with these Pan Fried Pork Chops in Pan Sauce for Dinner!
Looking for a delicious and impressive dinner recipe? Look no further than these pan fried pork chops with a mouthwatering pan sauce. With just a few simple ingredients and easy-to-follow steps, you can elevate your pork chop game and impress your dinner guests tonight.
Keep it simple using only one pan and a few tasty ingredients, you will want to keep this one on hand to impress your family and friends. A Garlicky Infused White Wine Sauce shines like a star next to perfectly seared pork chops.
Check Out These Pictures Showing How Easy It Is!
Choose the right cut of pork chop.
When it comes to making perfect pan fried pork chops, choosing the right cut of meat is key. Look for pork chops that are at least 1 inch thick, with a good amount of marbling throughout the meat. This will ensure that your pork chops stay juicy and tender during the cooking process. Bone-in pork chops are also a great option, as they add extra flavor and help to keep the meat from drying out.
Season the pork chops generously.
Before cooking your pork chops, be sure to season them generously with salt and pepper on both sides and dust them with a little flour. You can also add additional seasonings like garlic powder, paprika, or dried herbs for extra flavor. Allow the pork chops to sit at room temperature for about 30 minutes before cooking to ensure even cooking and to prevent them from becoming tough.
Preheat your skillet and use the right oil.
To make perfect pan fried pork chops with a delicious pan sauce, it's important to start with a preheated skillet and the right oil. Heat a large skillet over medium-high heat and add a high smoke point oil like vegetable, canola, or grapeseed oil. Once the oil is hot, carefully add the seasoned pork chops to the skillet and cook for about 4-5 minutes on each side until golden brown and cooked through. Don't overcrowd the skillet, as this can cause the pork chops to steam instead of sear.
Cook the pork chops to the right temperature.
To ensure that your pan fried pork chops are cooked to perfection, it's important to use a meat thermometer to check the internal temperature. The USDA recommends cooking pork chops to an internal temperature of 145°F (63°C) followed by a three-minute rest time. This will ensure that the pork chops are safe to eat and also juicy and tender. Avoid overcooking the pork chops, as this can result in dry and tough meat.
Make the pan sauce with the drippings and other ingredients.
After cooking your pork chops, don't let those delicious drippings go to waste! Use them to make a flavorful pan sauce that will take your dish to the next level. Start by removing the pork chops from the pan and setting them aside to rest. Add the garlic to the pan and sauté until fragrant. Deglaze the pan the white wine and chicken stock, scraping up any browned bits from the bottom. Add the butter and fresh herbs (I used fresh thyme) , and let the sauce simmer until it thickens.
Return the pork chops to the pan and spoon the sauce over the chops. 
You May Also Like These Recipes: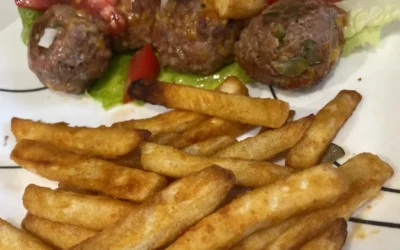 Cheeseburgers are my favorite, but totally crazy calories. These Meatballs will help with cravings! Are you looking for a simple and easy way to get in your cheeseburger cravings, than this recipe is for you. Clocking in at about 125 calories per 1.5oz meatball, they...
read more
Get My Perfect Pan Fried Pork Chops with Pan Sauce Recipe Below: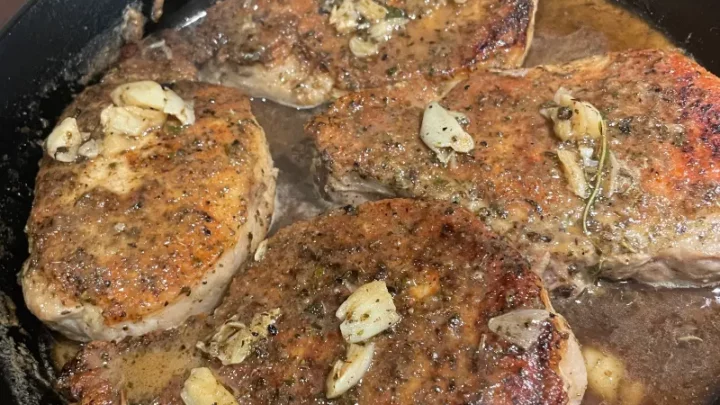 Yield:

4
How to Make Perfect Pan Fried Pork Chops with Pan Sauce
Additional Time:
5 minutes
You will fall in love with these Pan Fried Pork Chops in Pan Sauce for dinner!
Keep it simple using only one pan and a few tasty ingredients, you will want to keep this one on hand to impress your family and friends. A Garlicky Infused White Wine Sauce shines like a star next to perfectly seared pork chops.
Ingredients
For The Pork Chops
4 - Center Cut Bone In Thick Cut Pork Chops
Salt/Pepper to Taste
1/3 Cup All Purpose Flour
2 Tablespoons Extra Virgin Olive Oil
Pan Sauce
1/2 Cup White Wine ( I used sauvignon blanc)
3/4 Cup Chicken Stock
6 Garlic Gloves (smashed)
4 Sprigs Fresh Thyme
4 Tablespoons Salted Butter
Pan Sauce Seasoning
1/2 Teaspoon EACH; Basil, Oregano, Onion Powder
1/4 Teaspoon Seasoned Salt
1/8 Teaspoon Smoked Paprika
Instructions
Prep The Pork Chops for Searing
Optional: If you want to make your pork more tender, you can pound them under plastic wrap with the pointy side of a meat mallet
Lay out your Pork Chops on a sheet pan lined with foil and season each side of the pork chops with salt, pepper, and Italian seasoning. If you have the extra time you can let them sit out at room temp for 35-45 minutes, allowing the salt seasoning a chance to penetrate through the meat and give it more flavor. This will also make the pork juicier. and tender. If you don't have the time, just season the pork chops just before searing.
While the Pork Chops are seasoned, combine the pan sauce seasonings and stir them into the chicken broth. I like to pre measure everything out so its easy to just dump and cook.
Lightly coat each side of the pork chops with flour and rub it over each side. This will help to form a nice crust on the pork and also add flour to the sauce to help it thicken.

Sear the Pork Chops
Heat olive oil in a large skillet, like my favorite cast iron skillet, over medium high heat. It's going to get smoky so be sure to turn on your exhaust fan or open a window.
Add the pork chops two at a time (cooking in batches) and sear them for 4-6 minutes on the first side, and 2-4 minutes on the second side. Set aside on a plate and let them rest.

Make the Pan Sauce
Turn the heat down to medium and add the wine. Then add the chicken broth/seasonings, crushed garlic, and thyme. Bring the sauce to a simmer and let it reduce by half, 5-6 minutes. (Don't worry, the alcohol from the wine will cook out.)
Add in the butter and the pork chops pouring any juices that may have accumulated on the plate. As the butter starts to melt, tip the skillet to to one side and use a spoon to baste the pork shops with that delicious sauce you just made. Keep basting until the pork chops read 145° F using a digital thermometer.
Turn off the heat and move pan to a cool side of your stove to let the pork chops rest for 3-5 minutes. This resting time will allow all of the juices and sauce to absorb into the Pork Chops
Notes
This recipe was inspired by my Instagram friend Stephanie's post. You can find her recipe for this dish on her website along with so many other great recipes here: The Cozy Cook

Recommended Products
If you enjoyed my recipe, please help support my blog by checking out my recommended products. Some of the links below are affiliate links. This means that, at zero cost to you, I will earn an affiliate commission if you click through the link and finalize a purchase. Thank you for your support!
Nutrition Information:
Yield:
4
Serving Size:
1
Amount Per Serving:
Calories:

333
Total Fat:

23g
Saturated Fat:

10g
Trans Fat:

1g
Unsaturated Fat:

12g
Cholesterol:

65mg
Sodium:

421mg
Carbohydrates:

13g
Fiber:

1g
Sugar:

1g
Protein:

13g