Who Says You Can't Make Pork Chops Without Breadcrumbs?
Are you looking for a simple and easy twist on pork chops? The secret to these Keto Pork Chops is using Pork Rinds as the Breading. Pork on Pork – Who doesn't like that idea?
Crispy Protein Packed Pork Chops in Less Than 30 Minutes!
The best part about this recipe is in its simplicity. It is not expensive to make and is perfect to for quick weeknight meals. For these pork chops, I chose to use 1.5″ inch thick cut boneless pork chops so that they remain juicy on the inside and crispy on the outside.
Let Keto Go!
Preheat your Air Fryer or Oven to 400F while you assemble the pork chops and quick breading station.
Grab those Pork Rinds,  if you have a food processor, you can burr them up quickly and place in a large bowl. If you do not have a food processor, let's get some rage out and use the back of a frying pan or rolling pin and smash the rinds to bits! You want to make the pork rinds pretty fine and breadcrumb consistency.  Add the Paprika, Garlic and Onion powder to the bowl of pork rinds and mix to combine.
I Dip – You Dip – We Dip – These Pork Chops
Now for the breading station.. Crack and scramble the eggs into another bowl and place it next to the pork rind mixture. One by one, dip the pork chops into the egg, coating them well, then into the pork rinds, coating them well again.
Shake off the excess pork rind mixture and place on a foil lined sheet pan if using the oven or into your air fryer basket. Repeat for the rest of the pork chops. If using a small air fryer you may need to work in batches, perhaps 3 at a time.
Air fry or bake for 12 minutes and then flip the pork chops. Serve with your favorite veggies, bbq sauce, or just eat them! 
I promise you that they will not last long in your fridge because they are so darn delicious.
Check Out These Pictures Showing How Easy It Is!
Get My Keto Pork Chops Recipe Below: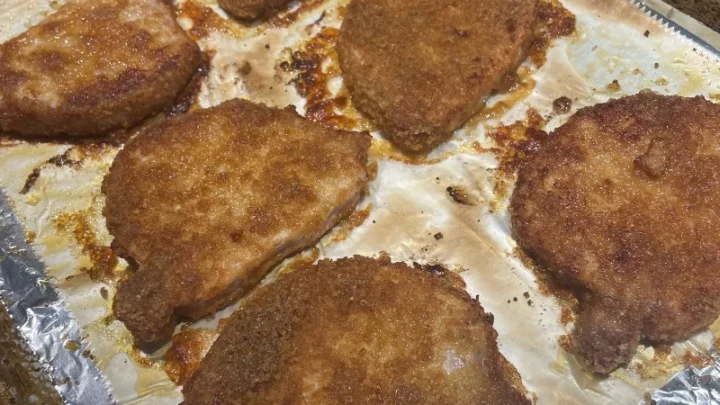 Yield:

4
How To Make Keto Pork Chops - Super Crunchy Delicious
Looking for a Super Tasty twist on Pork Chops?
These Keto Pork Chops are breaded with Pork Rinds which makes them super crispy and delicious! Air fryer or oven, they come out perfect every time. 43g of Protein Power Packed Pork Chops!
Ingredients
6 1 to 2 inch thick boneless pork chops
3 ounce Bag pork rinds, crushed in the food processor
1 teaspoon Kosher Salt
1 teaspoon Smoked paprika
½ teaspoon Garlic powder
½ teaspoon Onion powder
2 large Eggs, beaten
Instructions
Instructions:
In a shallow bowl, mix the crushed pork rinds with the seasonings. In a separate shallow bowl, add in the beaten eggs. One at a time, coat the pork chops in the egg, then in the pork rind mixture. Place the breaded pork chops in the air fryer.

For 1 inch pork chops, set the air fryer at 400F for 12 minutes and flip half way through. For 2 inch thick pork chops, set the air fryer for 20 minutes and cook half way through. Pork chops are done when an internal temperature thermometer reads 145-160F.
Oven Instructions:
Place the breaded pork chops on a sheet tray and bake in a 425F oven for 15 minutes on each side or until an internal meat thermometer reads 145F.
Recommended Products
If you enjoyed my recipe, please help support my blog by checking out my recommended products. Some of the links below are affiliate links. This means that, at zero cost to you, I will earn an affiliate commission if you click through the link and finalize a purchase. Thank you for your support!
Nutrition Information:
Yield:
6
Serving Size:
1
Amount Per Serving:
Calories:

300
Total Fat:

12g
Saturated Fat:

5g
Trans Fat:

0g
Unsaturated Fat:

5g
Cholesterol:

93mg
Sodium:

512mg
Carbohydrates:

0g
Fiber:

0g
Sugar:

0g
Protein:

43g