Cheeseburgers are my favorite, but totally crazy calories. These Meatballs will help with cravings!
Are you looking for a simple and easy way to get in your cheeseburger cravings, than this recipe is for you. Clocking in at about 125 calories per 1.5oz meatball, they are a perfect way to cheat cheatday!
Just a few pantry items needed to make this delicious recipe… (told you it is simple)
Starting with the ground beef, try to find 85% lean ground beef because you need a little fat in these meatballs so they do not turn into dry golf balls. 
Typically you add some sort of liquid to the mixture to retain the moisture, but this recipe uses ketchup, mustard, onions, a little olive oil, dill pickles and sharp cheddar cheese which bring in the flavor and moisture you need.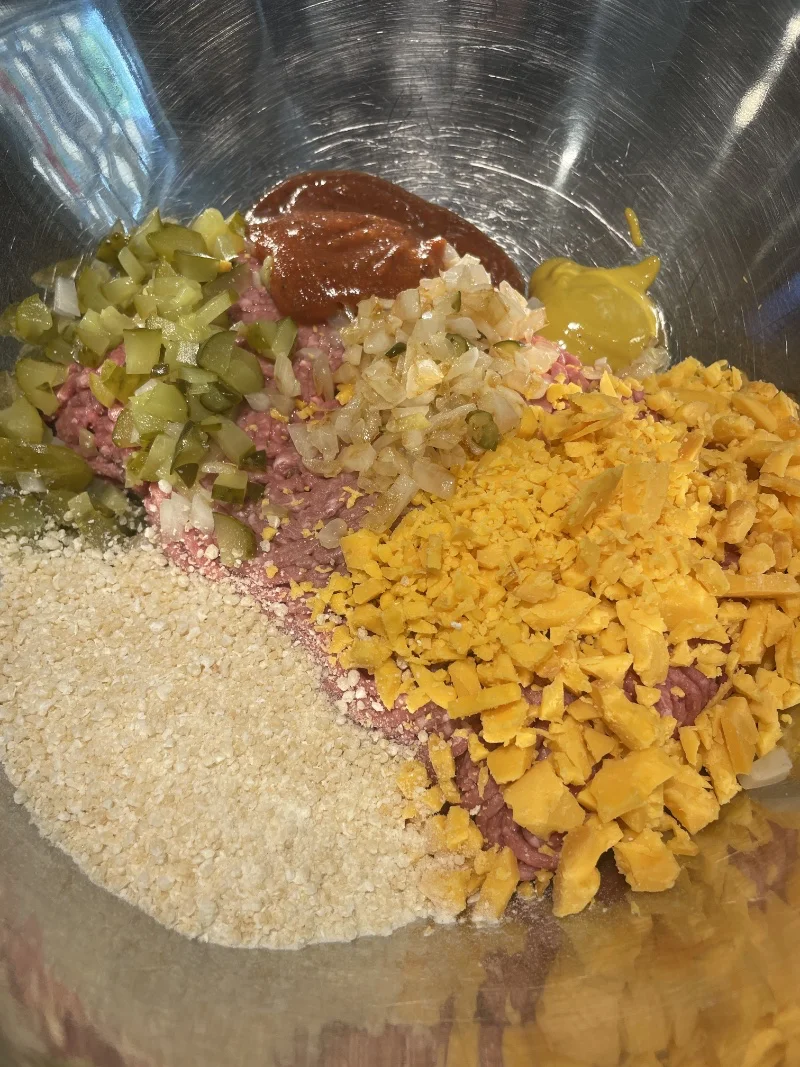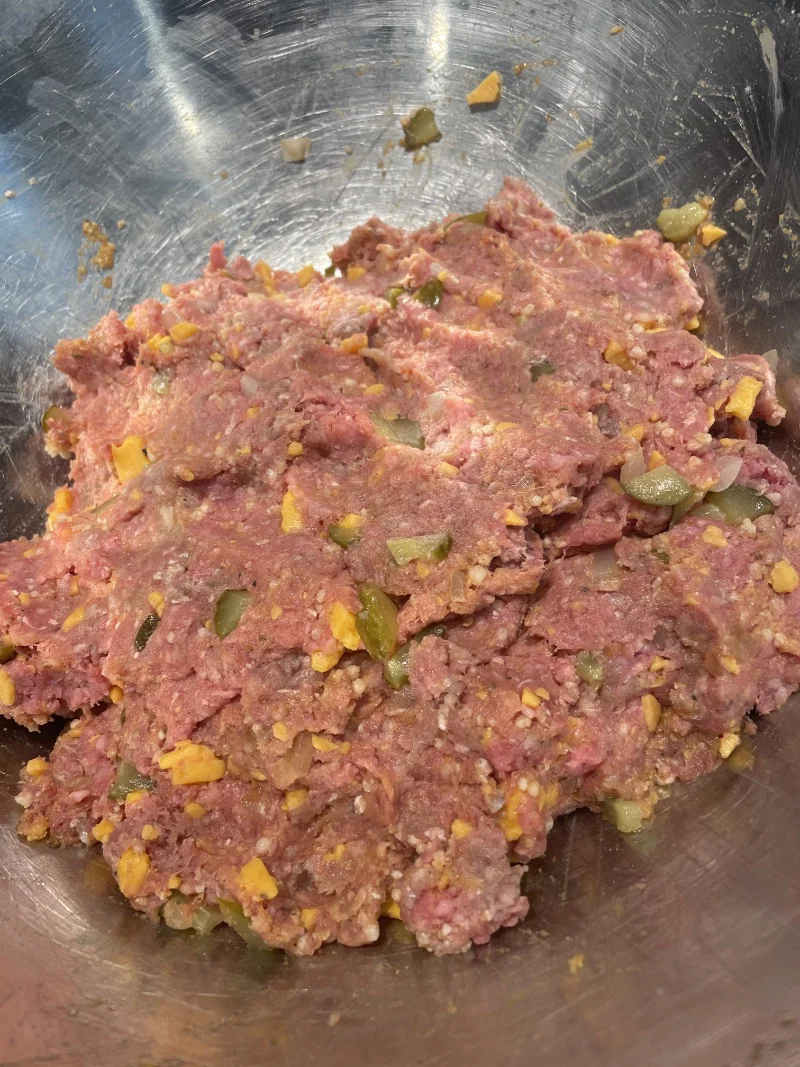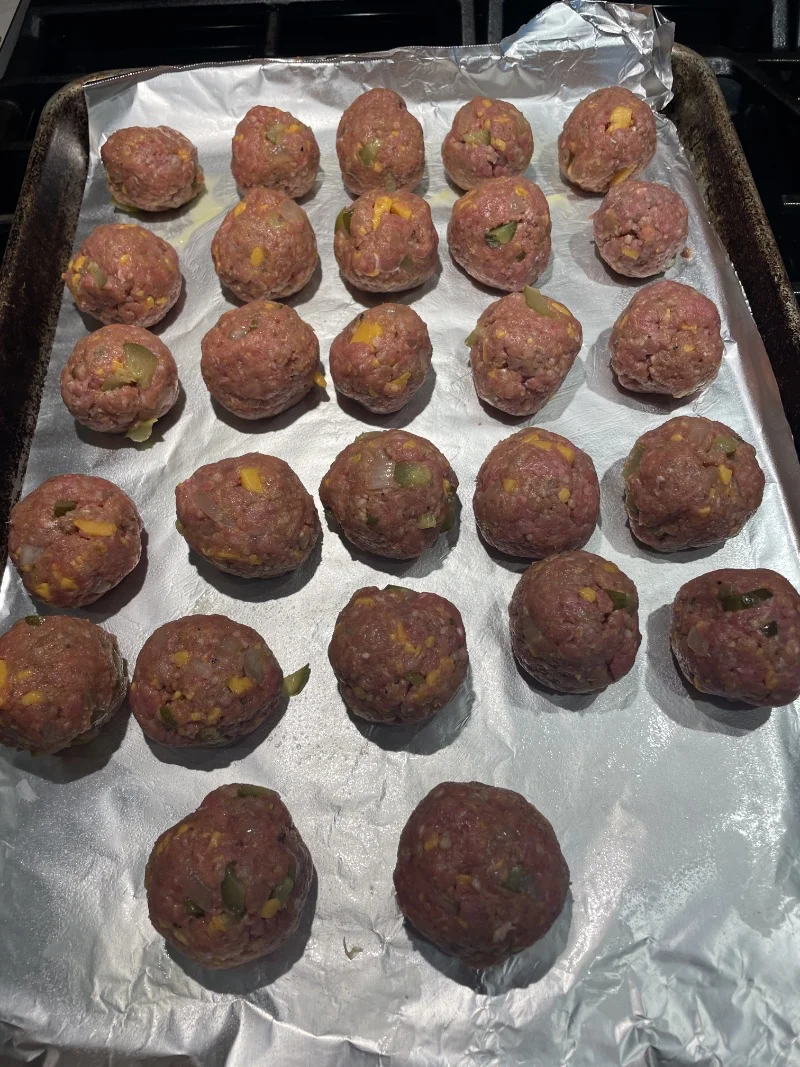 The Cheeseburger Meatball Mixture
In a large bowl, combine ground beef, diced pickle, diced onion, ketchup, mustard, diced sharp cheddar cheese and mix well. Your hands will get dirty for sure! Add a little olive oil to help with the fat content.
The mix should be tacky to wet at this point – that moisture is needed. Next grab the panko breadcrumbs and slowly add them to the meat mixing along the way. You want the mixture to be just dry enough to form 1.5oz golf ball sized meatballs.
I was able to get about 26 meatballs from this mixture on my sheet tray.
Let's Bake These Cheeseburger Meatballs in the Oven or Air Fryer
Preheat your oven or air fryer to 450F – We are going to cook these meatballs hot and fast. I chose to go the oven route because its much faster for cooking all of the meatballs at once.
If you have an air fryer you will have to cook them in batches depending on how big your air fryer is.
On a foil lined sheet pan, spray a little cooking spray on the foil to help with sticking and line up your formed meatballs like a little meatball army.
Bake these meatballs at 450F for approximately 15-20 minutes until you basically smell them. They should be cooked to 165F internal temperature easily at this point but you can always check with a food thermometer.
Some Meatball Madness Assembly Required!
Once these Cheeseburger Meatballs have been cooked, and your house smells amazing, time to plate. Plating is my favorite part of cooking besides the eating part!
Grab a Romaine Heart Leaf, rinse it off and trim the bottom stalk area of any discoloring. Lay the leaf down and place 4 meatballs in a row, then top with diced tomato, onion, more pickles if that pickles your fancy. Drizzle Ketchup and Mustard over the top and dig in!
I made cheap frozen seasoned french fries to go with my Cheeseburger Meatballs to make it feel more like I am cheating. I just put the fries on a sheet pan and baked them with the meatballs and they were perfect. 
Check Out These Pictures Showing How Easy It Is!
Get My Cheeseburger Meatballs Recipe Below: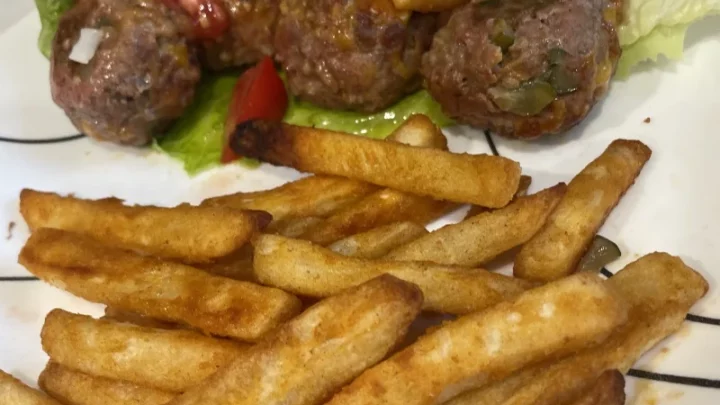 Yield:

6 Servings
The Best Cheeseburger Meatballs Ever
Cheating Cheat Day?
These Cheeseburger Meatballs will make you feel like you are cheating for a fraction of the calories and carbs !
Clocking in at my nerdy calculation, these are about 125 calories each with 4g of protein, and being gluten free barely any carbs. No bun no problem , just use Romaine Lettuce as the vehicle and top with onion and tomato.. then your favorite condiments… except Mayo cause yuck - that's another story all together I don't know you well enough 🙂
Ingredients
Meatball Mixture:
3lbs 85% Lean Ground beef
1 Dill Pickle diced
1/2 Onion diced
3 tablespoons of Ketchup
1 tablespoon yellow mustard
1/2 cup gluten free panko breadcrumbs
1/2 cup diced sharp cheddar cheese
Instructions
To Make These Amazing Cheeseburger Meatballs:
Preheat oven to 450f
Combine ground beef, ketchup, mustard, breadcrumbs, cheese, dill pickle, onion (I sweated my onion in a pan first, cause I'm booghheee .. but raw is fine)
Form into 1.5oz balls , basically the size of a golf ball and place on a foil lined spray greased sheet pan and bake for about 15 - 25 mins until browned.. you can smell them and tell when done.
Serve over a leaf of Romaine, topped with tomatoes and onion , side of cheap frozen seasoned fries (put in with meatballs) and golden!
Notes
You can do these in an Air Fryer if you want to - just cook in batches.
Recommended Products
If you enjoyed my recipe, please help support my blog by checking out my recommended products. Some of the links below are affiliate links. This means that, at zero cost to you, I will earn an affiliate commission if you click through the link and finalize a purchase. Thank you for your support!
Nutrition Information:
Yield:
6
Serving Size:
1
Amount Per Serving:
Calories:

500
Total Fat:

42g
Saturated Fat:

17g
Trans Fat:

1g
Unsaturated Fat:

18g
Cholesterol:

221mg
Sodium:

538mg
Carbohydrates:

10g
Fiber:

1g
Sugar:

3g
Protein:

69g
By No Means am I a Macro Expert !