Try My Go-to Bread Stuffing for Thanksgiving or Weeknight Meals – It is Delicious!
Looking for a foolproof and easy bread stuffing dressing recipe that will simplify your Thanksgiving or weeknight meal prep? Look no further! We've got you covered with a delicious and simple recipe that will have your taste buds singing. Made with just a handful of ingredients, this bread stuffing dressing recipe is the perfect side dish to accompany your turkey or chicken.
With the perfect balance of flavors and textures, it's sure to be a hit with both kids and adults alike. Not only is this recipe incredibly tasty, but it's also quick and easy to prepare. Whether you're a seasoned cook or just starting out in the kitchen, you'll have no trouble whipping up this mouthwatering dish in no time.
So why stress over meal prep when you can simplify it with this foolproof easy bread stuffing dressing recipe? Give it a try and see for yourself how effortlessly delicious your Thanksgiving or weeknight meals can be.
Check Out These Pictures Showing How Easy It Is!
You May Also Like These Recipes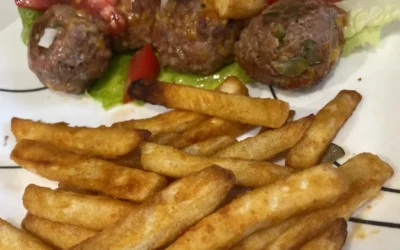 by nerdculinary | Dinner, Dinner Ideas, Lunch, Quick & Easy, Recipes
Cheeseburgers are my favorite, but totally crazy calories. These Meatballs will help with cravings! Are you looking for a simple and easy way to get in your cheeseburger cravings, than this recipe is for you. Clocking in at about 125 calories per 1.5oz meatball, they...
read more
Get My Easy Stuffing Dressing Recipe Below: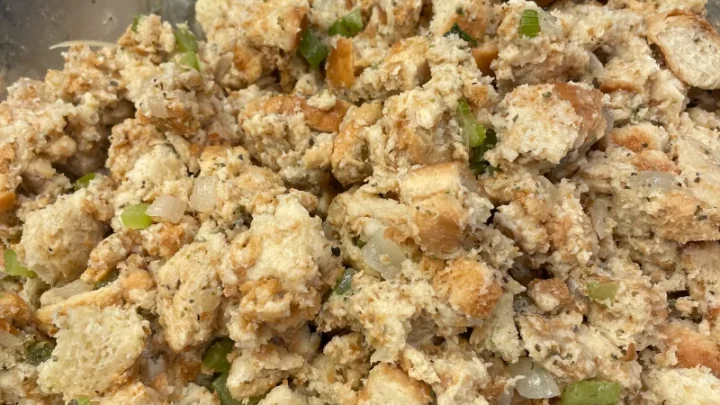 Yield:

6 Servings
Easy Turkey Stuffing Dressing for Thanksgiving
This is my goto recipe for a quick stuffing or dressing as people call it for Thanksgiving or any weeknight meal. This can be used to stuff chicken, turkey, fish, and pork chops you name it. This is the base I use for stuffing and then adapt to add more veggies, meats, and herb, whatever to suit your meal.
Ingredients
8 cups dried white bread cubed
4 stalks of celery chopped 1/4 pieces
1 medium onion diced
1 tbsp dried sweet marjoram
1 tsp black pepper
1 tsp kosher salt
1 1/2 cups of chicken stock
3 tbsp butter
Instructions
Combine toasted cubed bread, celery, onion and chicken stock and mix until well combined and the bread is not hard
Season with salt, pepper and marjoram, mix a few more times careful not to make the bread dense.
If making this as a side dish, put mixture into a casserole dish, top with pads of butter evenly and bake at 350f for 30 minutes. If you want to check it at 15 minutes, you can always add a splash or two of chicken stock so it does not dry out.
Store in fridge for up to 4 days or freeze.
Recommended Products
If you enjoyed my recipe, please help support my blog by checking out my recommended products. Some of the links below are affiliate links. This means that, at zero cost to you, I will earn an affiliate commission if you click through the link and finalize a purchase. Thank you for your support!
Did you make this recipe?
Please leave a comment on the blog or share a photo on Instagram