Want to Learn How to Cook Prime Rib Roast On A Pellet Grill Smoker?
I recently picked up an Oklahoma Joes Pellet Grill just before the holiday. I wanted to try the ultimate cook, Bone In Smoked Prime Rib Roast in this grill for the first time. Prime Rib Roasts are definitely not something that you want to mess up. These hunks of glorious meat are quite pricey so this was going to be my ultimate test.
Usually when I make beef rib roast, I use my oven and the oven off method to cook it to perfection. This time I am going to try low and slow using a pellet grill.
Smoking meats is not something new to me but I have always used charcoal or cheated in my Weber propane grill with a smoker box. Beings this grill is computer controlled and slowly releases hardwood pellets into the firebox, this should be pretty simple.
Prepping Your Prime Rib Roast For Smoking
The day before my cook, I was able to pick up a 5lb bone in rib roast from my grocery store for a pretty good deal. Because it was a holiday weekend, this cut of meat is put on sale. There are a few different grades of meat you can buy. Ranging from the lowest grade "Select" to the highest grade "Prime", quality does matter.

The roast I selected was on the higher end of the "Choice" range, which means it had decent marbling of fat within the meat. A USDA Prime Rib Roast would be ideal, but they did not have any available. I asked my butcher to "french" my rib roast which means cut the bone away from the meat. I could have done this myself but it was just one less task for my cook.
On the night before the cook I like to dress the roast and allow it to soak into the roast. For my dry rub I made my own PrimeNerd rub using lots of herbs. Thyme, Rosemary, Tarragon, Sage, and Parsley. I mixed this with a healthy amount of kosher salt to rub all over the beef. I also cut the butchers twine so I could add this mixture between the bone and the meat and retied. Place your roast in an aluminum pan just big enough to fit the roast.
What about garlic? Absolutely I take about 6 gloves of garlic and slice them. Next I cut slits bug enough to shove a garlic sliver into the meat. I do this all over the top and front of the roast. Once this is done, cover and let it sit in the fridge overnight to absorb the flavors of the herbs and garlic.
Let's Get Cooking
Take that beautiful prime rib roast out of the fridge and sit it on the counter allowing it to come to room temperature, about an hour before you plan to start cooking.
Preheat your pellet smoker or grill to 225-250 4 hours before you plan to eat. Once your roast has warmed up some and your grill is steady at 240F, time to load up the smoker. I used a hardwood blend of cherry, hickory and apple in my pellet smoker. But you can choose your own smoking wood to use. Cherry, apple, pecan wood is pretty mild.
Place your rib roast still in the aluminum pan on the pellet smoker rack, add a cup of beef broth to the pan for moisture. Insert a digital temperature probe if you have one into the middle of the roast. Take care not to hit the bone or it will read higher. Smoke the roast for about 30 minutes a pound or until the internal temperature reaches about 120F for rare, 125F for medium rare.
Once the roast hits your desired internal temperature, remove from the grill / smoker and set aside tented with foil for at least 30 minutes.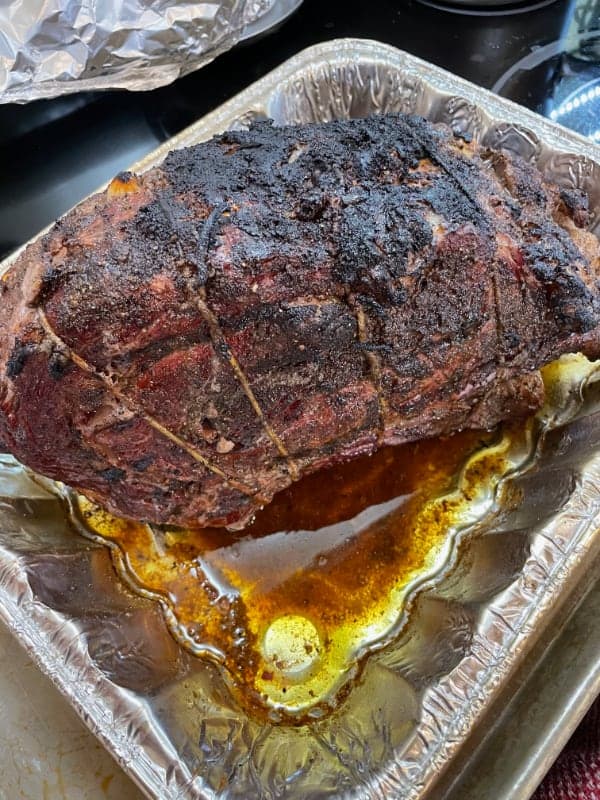 How To Slice Your Rib Roast For Serving
Once your smoked prime rib roast has cooled for 30 minutes, untie your butchers twine and remove the meat from the bone to a cutting board. Using a sharp knife, slice the roast into long 1/2 slices.
More Recipes You May Love:
How To Smoke Prime Rib Roast On A Pellet Grill Recipe Below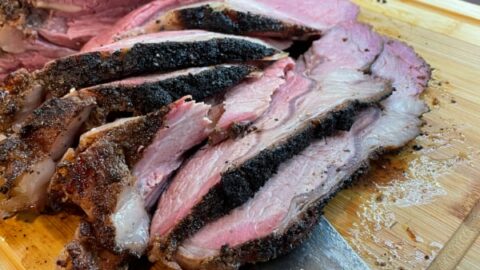 Yield:

5
How To Cook Smoked Prime Rib Roast On A Pellet Grill
Total Time:
4 hours
30 minutes
Prime Rib is my favorite roast to make for any special occasion and on holidays! This was the first time I cooked one on a pellet grill smoker and it turned out amazing!
Ingredients
5lb Bone in Prime Rib Roast
1 Cup Beef Stock
5 cloves Fresh Garlic Sliced in half
2 tbsp Extra Virgin Olive Oil
For The PrimeNerd Rub:
1 tsp Granulated Onion
1 tsp Garlic Powder
1 tsp Granulated Basil
1 tsp Granulated Celery
1 tsp Granulated Oregano
1 tsp Dried Parsley
1 tsp Black Pepper
1 tbsp Kosher Salt
Instructions
Prepping the Prime Rib Roast
I like to "french" the roast, which means removing the bones from the roast and re-tying it. Once the bones are removed you can combine all of the PrimeNerd rub ingredients in a bowl and combine well. Next coat all sides of the roast with EVOO and the bone, then do the same using the rub you just made.
Next, tie up the roast with butchers twine and set inside a disposable aluminum pan just big enough to hold the roast standing on its bones. Using a sharp paring knife cut small slits on the top of the roast and insert your sliced garlic cloves into the roast all the way.
Take the Prime Rib and place it in the refrigerator for at least 1 hour or overnight is best to allow the rub to work its flavor magic into the meat.
Lets Prep The Grill or Smoker
We are going to cook this Prime Rib Roast low and slow for about 35 minutes a pound at 225 Degrees Fahrenheit . My smoker swings from 225-250F during my cooks when set to 225F.
Preheat your grill or smoker to 225F, while the grill is heating up, take out your roast and let it sit on the counter to take the chill off the meat.
Time To Cook
Insert a temperature probe if you have one into the thickest part of the meat, usually right in the middle. Be careful not to hit the bone with the probe or it will give you false readings.
On your preheated grill, place the roast in the center of your smoker or on a gas grill to the side for indirect heat. Add 1 cup of beef broth to the pan to help keep moisture in the smoker and also catch all of those yummy drippings from the roast.
I chose a blend of hardwoods to smoke this roast. Cherry, Hickory and Apple Pellets. Cook roast for approximately 3 hours for a 5 pound roast or until the internal temperature reaches 120F for rare, 125 for medium rare.
Crust Time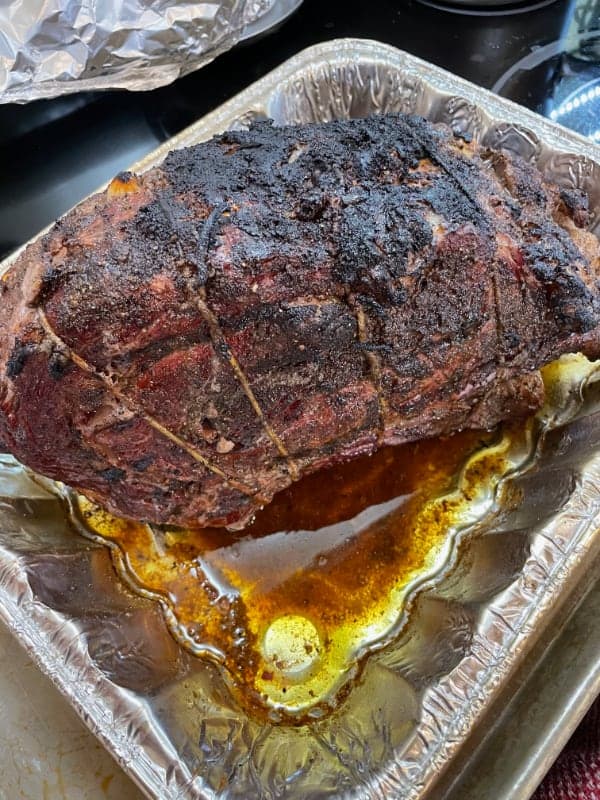 Once your roast is taken off the smoker when it reached your desired internal temperature, set it aside and raise the temp of your grill to high so we can sear all sides and get that crust that you have been working on for the past 3 hours.
When the grill is hot, sear all sides of the roast about 2 minutes a side and remove from the grill to the pan. Tent your roast and allow it to rest for 30 minutes before slicing, this is very important. Resting allows the juices to remain in the roast so that when you slice it for serving you will not lose any of it.
Recommended Products
If you enjoyed my recipe, please help support my blog by checking out my recommended products. Some of the links below are affiliate links. This means that, at zero cost to you, I will earn an affiliate commission if you click through the link and finalize a purchase. Thank you for your support!