Let's Settle The Age Old Debate About Cooking Meatballs
Growing up I have had plenty of meatballs over the years. When you eat a good meatball you remember it. There are many ways to cook meatballs and I wanted to put a few of these popular methods to the test. Now I will be sharing my scratch made meatball recipe below, so this experiment did not use frozen pre-cooked meatballs.
There are many trains of thought on which is the best method for cooking meatballs out there – a lot has to do with "how grandmom or mom made them". My mother used to pan fry them before adding them into the sauce and i have fond memories of me sneaking a few meatballs from the cooling pan when she wasn't looking. I also worked at an Italian restaurant in high school and we used to make meatballs and bake them on a large sheet pan in the oven. Both delicious!
As I started cooking sometimes I took shortcuts due to laziness and dropped the meatballs into sauce and let the sauce cook them. Also resulting in delicious meatballs, but which way is best? Let's find out.
Cooking Meatballs In Sauce
Cooking meatballs in sauce is by far the most simplest way to produce tender flavorful meatballs. I definitely had that thought that dropping raw meat into the sauce could be unsafe. The way to ensure that you are safe is to make sure your sauce is preheated in a sauce pot and simmering before you drop the raw meatballs in.
The tomato sauce should be the first thing you start on the stove before you add the meatballs. I like to add the meatballs and bring the sauce up to a high simmer, almost boiling before knocking it down to a low simmer. This will ensure that you start the cooking process on the raw meat. Simmer your meatballs for at least 30 minutes, but I find that 60 to 90 minutes on low best.
For my test I dropped two meatballs into the sauce and marked them with a toothpick. That way it would be easier to fish them out of the sauce for my final thoughts below.
How Did The Raw Meatballs Cooked in Sauce Turn Out?
This cooking method produced ultra tender meatballs and added a nice flavor to the sauce. This process does take slightly longer than the other two cooking methods I tested. One added bonus to this method is that it is basically hands off and easy clean up. Who likes doing dishes? lol
Meatballs – Baked Not Fried
Looking for a way to cook meatballs in a healthier method? Baking your meatballs is the way to go. I know that this whole air fry thing is popular, essentially baking but with hot air which I need to try. Baking meatballs produces a uniform crispy exterior and a tender inside. This method is best for making large batches of meatballs in the minimal amount of time.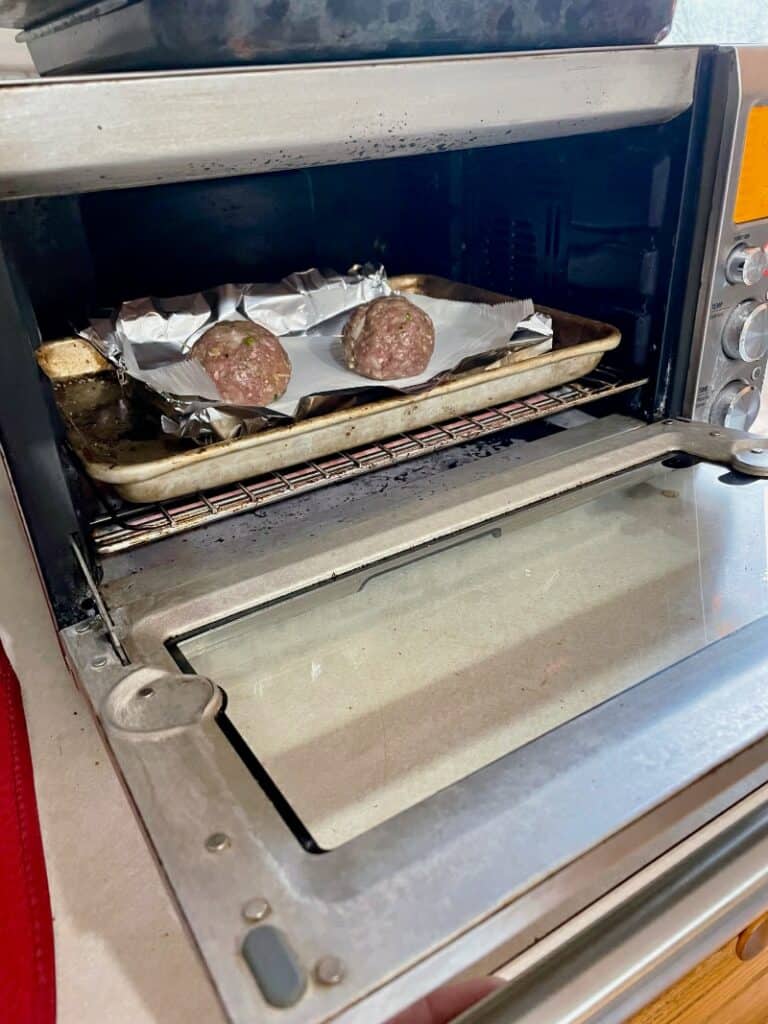 Since I am testing each of these methods out, I used my Breville Smart Oven and only baked two meatballs. I lined an aluminum half sheet pan with foil, topped with parchment paper and baked the meatballs at 400F for 25 minutes. I inserted two toothpicks in each so I could fish them out of the sauce later. Once the meatballs are done, remove them to and add them into the sauce. Simmer your meatballs for 30 minutes for best flavor.
Did Baking Meatballs Pass The Taste Test?
Baking the meatballs first produced tender meatballs encrusted with a nice uniform crust. Also the added benefit of baking them first allowed the fat to render out to the sheet pan which is a healthier way to cook them. Clean up was easy since we lined the sheet pan with foil and parchment paper. No additional dishes needed, win!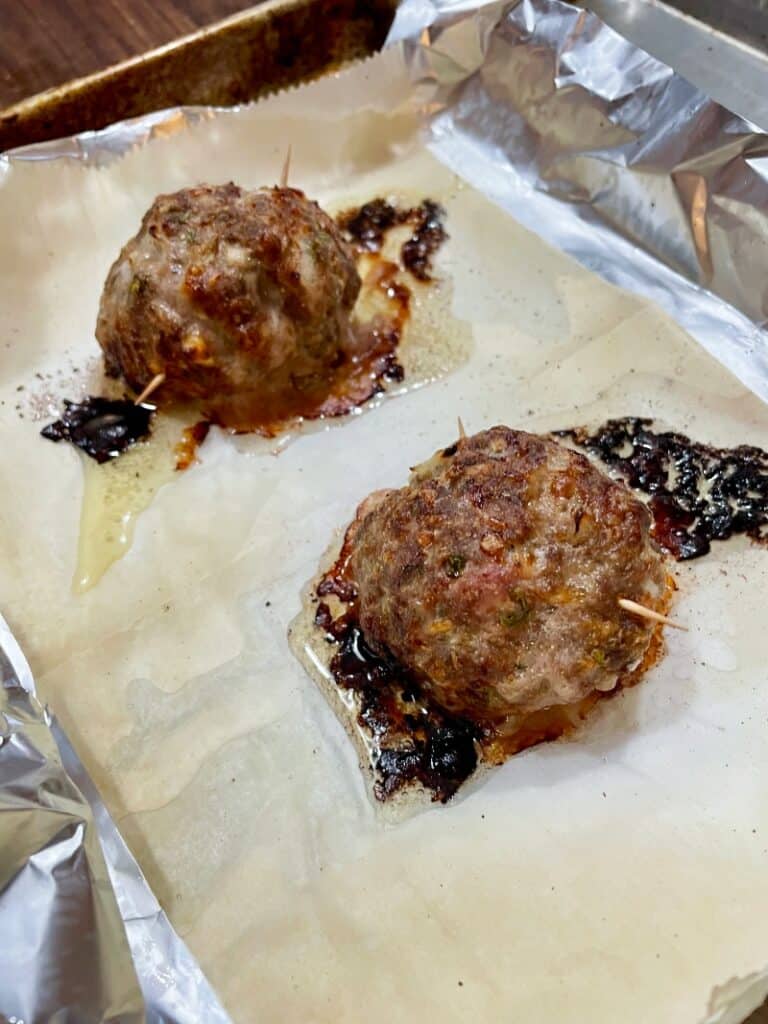 Pan Fried Meatballs, Oh My!
In my quest to find the best way to cook meatballs, pan frying was the last test. I grew up eating meatballs that my mother used to pan fry first. The smell of meatballs frying would lure me out of my room so I could swipe a few from the cooling tray before she dropped them into the sauce.
Pan frying meatballs will be the most labor intensive of these three best cooking methods for making meatballs. When pan frying meatballs, it is very important to use a pan that retains it's heat. I like to use my Lodge Cast Iron pan for this task as it produces a great crust on the meatballs, much like cooking a steak. Mind you, this method also produces a good deal of smoke, so turn up that hood vent and open your windows.
Let's Fry Some Meatballs!
To fry your meatballs before dropping them into sauce, preheat your favorite nonstick pan over medium high heat. Add a few glugs of Extra Virgin Olive Oil or Grapeseed Oil to the pan and swirl to coat. Working in batches drop meatballs in a clock wise pattern around the outside of the pan. Leave some room in between the meatballs carefully to not overcrowd the pan. If you put too many meatballs in the pan, the pan cools down too much and you end up steaming your meatballs. 6-8 meatballs is what fit in my cast iron pan.
After about 3 minutes, using tongs start with the first meatball you dropped in and flip it working your way clockwise around the pan until all of the meatballs have been flipped. Sear for another 3 minutes. You can flip them one more time if needed before removing to a sheet pan lined with a paper towel to absorb any oil.
Drop the meatballs into the tomato sauce and simmer for 20 minutes. This will allow the sauce to soak into the meatballs and flavor your sauce.
Final Thoughts on What is the Best Way to Cook Meatballs – Drum Roll…
This test was fun for me because I am a Nerd and I like to know the best way to do things, and cooking is no different than anything else.
In my opinion cooking the meatballs by pan frying them first produced the best tasting meatball as with anything fried. Frying allowed the meatballs to develop a crust much like you would get on a steak resulting in a crispy exterior and tender interior. It is definitely the messier way to do it and more time consuming. So if you are short on time, definitely bake the meatballs.
Baking meatballs definitely has its advantages such as easy clean up and hands off cooking. The meatballs came out uniformly crispy on the outside and tender on the inside. Clean up was a breeze and if you are making a lot of meatballs, say for a party or event, cooking them on baking sheets is the way to go..
Cooking the raw meatballs in the sauce directly was the simplest of methods as everything cooks in a single pot. This method does take a bit longer since you have to cook the meatballs in the sauce, nobody likes raw meatballs.
If you like this recipe – you should checkout my How to Make Mafalda Bolognese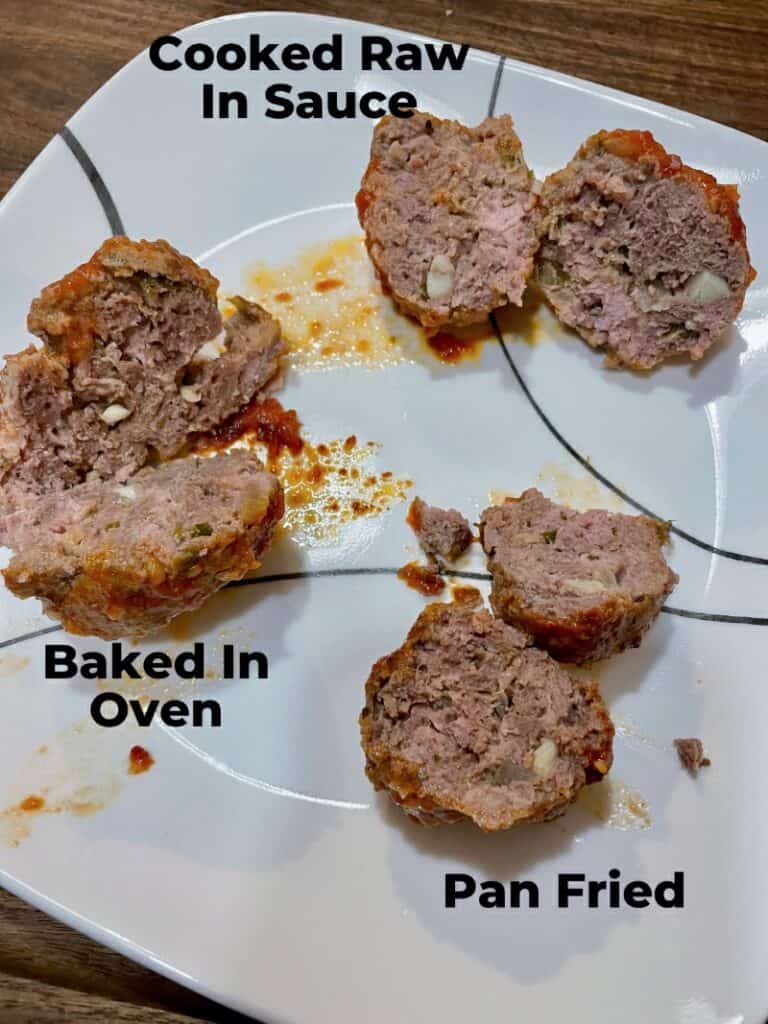 ---
Get My Meatball Cooking Recipe Below: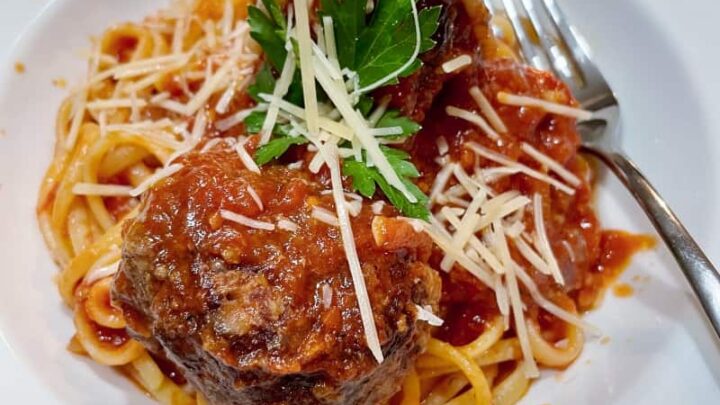 Yield:

16-18 meatballs
The Best Way To Cook Meatballs
Have you ever wondered what is the best way to cook meatballs?
Do you cook them raw in the sauce, baked them in the oven or pan fry them? Let's find out. I am putting three popular cooking methods to the test to truly see which makes the most tender and juiciest meatballs.
Ingredients
2lbs 80/20 Ground Beef
1lb Ground Pork
1/2 Medium Sweet Onion Finely Chopped
1/2 Cup Bread Crumbs (plain or seasoned)
1 Cup Parmesan Cheese or Italian Blend
1 Large Egg Scrambled
5 Cloves Fresh Garlic Peeled and Minced
1,4 Cup Extra Virgin Olive Oil
1/2 Cup Fresh Parsley (optional)
Instructions
Making & Rolling the Meatballs
In a large bowl, add the ground beef, ground pork and combine evenly using your hands
Next add the garlic, onion, egg and olive oil and mix to combine
Add the parmesan cheese and bread crumbs to help dry up the mixture so that its tacky but not overly dry in order to form the meatballs
Line a sheet tray with foil and using a spoon , grab enough meat mixture to form a ball slightly larger than a golf ball and roll in your hands until smooth and add to the sheet pan.
Continue this process with the remainder of the mixture lining them up on the sheet pan.
Cooking Meatballs In Sauce
Out of all of the cooking methods, this is by far the easiest. Make your own tomato sauce or use your favorite jarred sauce in a large pot. Heat the sauce so that is simmering, drop your meatballs into the sauce and simmer for 30 minutes. This method is of cooking meatballs is pretty popular and produces tender flavorful meatballs and also flavors the sauce.
Baking Meatballs in the Oven
Baking meatballs is also a pretty simple process. Preheat your oven, in my case I am using my Breville Smart oven, to 400F degrees and on a foil lined sheet pan with parchment paper on top.
Bake your meatballs for 20-25 minutes or until golden brown and internal temp is 165F.
Once the meatballs are done, you can add the cooked meatballs to your pot of sauce or and save the rest. Meatballs freeze well!
This method produced meatballs that have a nice uniform crust and soft tender inside leaving any fat on the sheet pan. This is how most Italian restaurants or local pizza shops cook meatballs because you can cook a lot of meatballs at once and use them for different purposes, pizza toppings, dinners, sandwiches, etc.
Pan Frying Meatballs
This method of cooking meatballs is the way I first saw them cooked, My mother used to cook the meatballs in a frying pan in batches and remove them to a sheet pan before adding them into the sauce.
Preheat your favorite pan to medium high heat. I like to use my trusty cast iron pan for this as it produces the best "crust".
Add a few glugs of olive oil or grape seed oil to the pan once it is preheated and swirl to coat the bottom.
If you have a hood vent, I highly recommend turning it on high as this process tends to get smokey.
Working clockwise, drop a meatball around the edges of the pan and one or two in the center and let them sear 2-3 minutes. Don't overcrowd the pan or your meatballs will steam instead of sear. My pan I put 7-8 meatballs at a time.
After 3 minutes, using tongs, flip the meatballs and sear the opposite side 2-3 minutes.
You can keep moving the meatballs around to get each of the sides browned, but two should be good enough to remove to a sheet pan to drain before adding to your pot of tomato sauce.
Add the meatballs to your pot of simmering tomato sauce and cook for about 20 minutes.
Pan frying meatballs produces in my opinion the best tasting meatball with a crispy tasty crust with a tender inside. This method of cooking meatballs takes a few more steps, and your attention. If you have the time to pan fry meatballs, then its the way to go.
Final Thoughts On The Best Way to Cook Meatballs
Meatballs are one of my favorite foods to cook. You have so many options on what ingredients you include in your meatballs. All three of these cooking methods produced flavorful tender meatballs. If you have the time to devote to pan frying your meatballs, that gets my vote. Baking meatballs in the oven or dropped straight into the sauce to cook is a much simpler process and also is very easy to clean up.
Lastly, with any of these methods you can simmer your meatballs on low for a few hours stirring occasionally and they will still turn out amazing!

Recommended Products
If you enjoyed my recipe, please help support my blog by checking out my recommended products. Some of the links below are affiliate links. This means that, at zero cost to you, I will earn an affiliate commission if you click through the link and finalize a purchase. Thank you for your support!