Mafalde or Mafalda or Mafaldine Pasta Bolognese is one of those Italian dishes that families make over and over again with many variations. My version of this amazing topping to any pasta is pretty simple and comes together in under and hour.
Traditionally bolognese sauce is a few chunky hearty tomato sauce that is usually served over ziti type pastas. Ziti or rigatoni pasta allows the meat and sauce to get inside the pasta. This recipe I used Mafalde Pasta for this bolognese which is like little ribbons of yumminess. The ripples grab the sauce and it looks beautiful on your plate.
Simple Hearty 60 Minute Mafalde Pasta Meal in Minutes!
In this recipe I am using 2 lbs of ground beef and 1lb of ground pork to make my Mafalde Pasta Bolognese sauce. Searing the meat without breaking it up allows a crust to form on the outside of the meat adding to the rich texture this dish has. I like to flip both sides of the meat before breaking it up. As soon as you break the meat up it starts to release its moisture and usually ends up steaming then meat. A good pan for searing the meat is my trusty Lodge Cast Iron pan.
Once you have browned the meat really good, transfer it to a bowl for later. Then add in your carrots, onions, celery and garlic. Once you start smelling that yummy smell of the veggies cooking with the garlic, grab some wine and pour it into the pan. Scrape up all the bits and bobs from the pan. Lastly stir in your marinara sauce and add your meat mixture.
Bolognese Sauce Is Best When Left to Simmer
That's it really, reduce the heat to a low simmer for 25-30 minutes and its done. Cook your pasta according to the instructions on the box, save a little pasta water if you want to add it to the sauce to loosen it up some before mixing it with your pasta.
Serve your Mafalde Pasta Bolognese with bread so you can scoop up any leftover sauce on your plate!
If you like this recipe, checkout my Recipe For The Best Way To Cook Meatballs, including my meatball recipe!
Get My Mafalde Pasta Bolognese Recipe Below: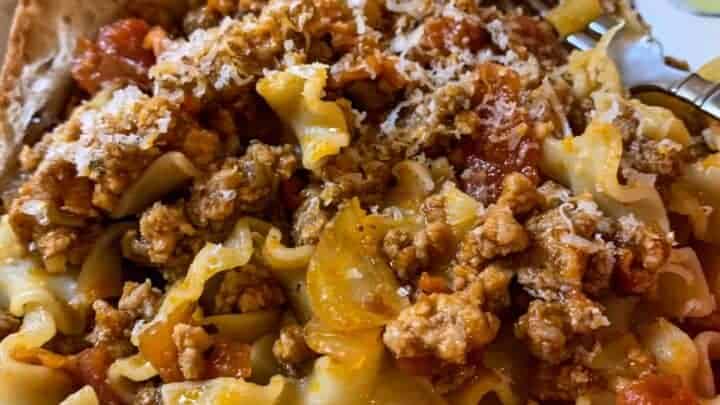 Yield:

6 Servings
Mafalda Pasta Bolognese
Bolognese sauce is one of my favorite comfort foods growing up. Any chance i get to make it, I use this recipe because its pretty simple, and full of flavor. The key to a good bolognese is to use both ground beef and ground pork. The pork sweetens up the sauce a bit along with the carrots.
All it takes is 60 minutes to make and you can put this on any kind of pasta you like. I used Mafalda pasta because it looks beaufitul on the plate and the little ripples catch the bits of meat when you scoop it up.
Nerdy quick tip... reserve a cup of your pasta water to mix with the sauce before add the pasta to the sauce, it thickens the sauce and helps coat the pasta. 🙂
Ingredients
2 lbs Fresh Ground Beef 80/20
1 lb Fresh Ground Pork
1 Medium Carrot Diced
1 Medium Onion Diced
1 Stalk Celery Diced
3 Cloves Garlic Diced
1 lb Mafalda Pasta (box)
1/2 Cup Dry Red Wine
Salt & Pepper to Taste
1 24oz Jar of Marinara ( Rao's is Awesome )
Instructions
Preheat your favorite pan to medium heat - My favorite pan is a Lodge Cast Iron Enameled 3.6qt Pan with Lid
Peel and dice the onion, garlic, carrot and celery into uniform size of about 1/4'
Add TSP of Olive Oil to the pan, then add onions, carrots and celery. Cook until onions are translucent and fragrant.
Add garlic and cook for about 2 minutes carefully as to not burn the garlic.
Remove veggies to a bowl and set aside.
Increase the heat of the pan to medium high and add ground beef and pork.
Allow meat to brown untouched for a few minutes before breaking up with the back of your wooden spoon.
Continue cooking until meet is cooked through, drain any excess oil
Pan back on heat, add the carrots, onion, celery and garlic to the mixture and stir
Next deglaze the pan with some dry red wine of your choice, about 1/2 a cup.
Scrap up all bits and bobs from the pan until the wine has reduced a bit, then add the marinara sauce.
Stir to incorporate and turn the heat down to low and simmer for 30 minutes.
While the bolognese sauce is simmering, prepare your pot of boiling water for your favorite pasta.
Once pasta is done, I always scoop out half of the sauce into a bowl, then scoop a ladle of pasta water into the sauce, then add pasta and toss to coat.
Recommended Products
If you enjoyed my recipe, please help support my blog by checking out my recommended products. Some of the links below are affiliate links. This means that, at zero cost to you, I will earn an affiliate commission if you click through the link and finalize a purchase. Thank you for your support!