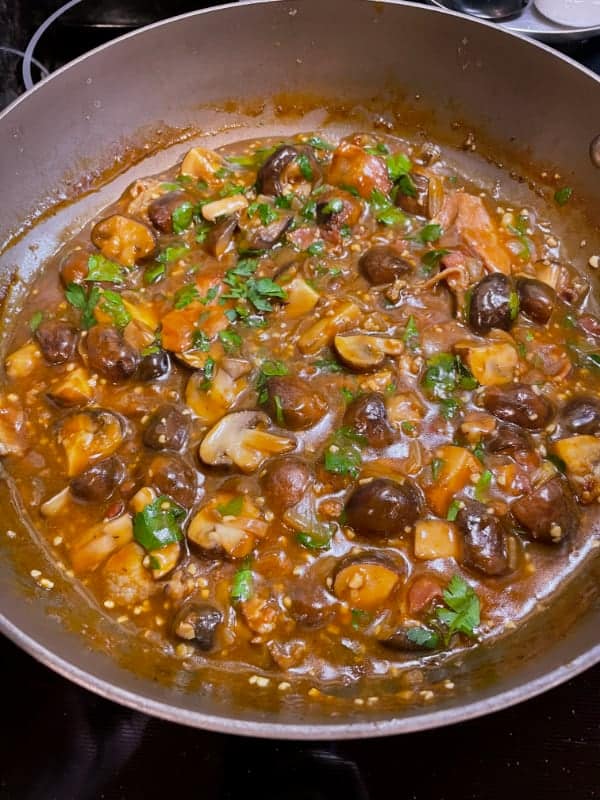 This Mushroom Sauce Is Amazing on Chicken, Pasta, Shrimp, You Name It
I love mushroom sauce, especially when paired with pasta and chicken. I never used to like mushrooms growing up, just something about the texture maybe? The only mushrooms I liked growing up were the ones Super Mario ate lol!
A Good Sauce Can Be So Versatile
I came up with the this mushroom sauce on the fly last night for a pasta dish I had in my head for Meatless Monday. Unfortunately on Monday I was tied up and was not able to cook dinner. Instead I decided to cook chicken legs on my new grill and to make this sauce for them.
The secret to this sauce is to build the flavors one ingredient at a time. Starting with the shallots, then adding the bacon helps infuse flavors. Next comes the mushrooms which will absorb these flavors followed by the garlic. Finally comes the white wine and golden mushroom soup for a short simmer to pull everything together.
Mushroom Sauce On Everything
Once you learn how to build flavors by making this sauce, you can use it as a springboard for other dinner ideas. You can make this sauce, then pour it over boneless chicken breasts and bake it. Have a hankering for carbs? Make your favorite pasta and toss it in the sauce. Feeling a bit shrimpy? Drop some shrimp in the pan and cook for 15 minutes on low and the shrimp will soak up all of these flavors!
How To Make The Best Mushroom Sauce Ever Recipe Below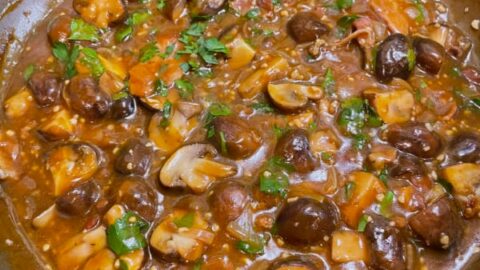 Yield:

4
How To Make The Best Darn Mushroom Sauce On Earth
Looking for the best mushroom sauce for your pasta, chicken or pot roast dinner? Look no further. This mushroom sauce is so luxurious, rich and silky you will want to try in on everything. Even over rice this mushroom sauce is spectacular.
Ingredients
1 24oz Package of Whole Baby Bellas Mushrooms (halved or quartered)
3 Shallots sliced into 1/2 pieces (medium sized shallots)
6 Large Garlic cloves minced
3 Strips Uncooked Bacon chopped (if you have some cooked, toss it in at the end)
3 Tbsp Butter
1 10oz can of Campbells Golden Mushroom Soup (Condensed)
Handful of Fresh Parsley Chopped
1/4 Cup White Wine for deglazing the pan
Instructions
This mushroom sauce was something that I kinda just made up on the fly. As it turns out, this recipe can be the base of a lot dishes in the future because it is so darn good. If you are concerned about keeping this vegan, omit the bacon, its still amazing!
Preheat your favorite nonstick pan, preferably one with high sides over medium heat. While the pan is preheating, prep your garlic, shallots, mushrooms and parsley.
Remember Mise En Place! Makes it so much easier if you have everything ready to rock when it's time to put it in the pan.
Once your pan is up to temperature, place the butter in the pan and swish it around to coat. When the butter is melted, drop the shallots in the pan cook about 3 minutes. Next drop the bacon in the pan and cook for 5 minutes. (skip this step if you are omitting the bacon)
Drop the mushrooms in the pan and cook for 5-8 minutes stirring occasionally. After the mushrooms have been cooked and have started to get golden in color, drop the garlic in the pan and stir. Cook about 3 minutes careful not to burn the garlic. When you start to smell the garlic its time to deglaze the pan with the wine, the best smell ever!
Deglaze the pan with the wine scraping any bits and bobs that may have stuck to the pan, this is flavor! Let the wine simmer for a few minutes to reduce a bit, more flavor!
Now take the can of Golden Mushroom Soup and pour it into the pan, stir to combine, reduce heat to low and simmer for 10 minutes uncovered allowing it to thicken. Take a taste, if it needs salt add a little at a time. Finish the sauce by dropping the parsley and a few cracks of fresh ground black pepper.
Notes
Serve this ridiculously good sauce over pasta, chicken, beef , shrimp, you name it.
Recommended Products
If you enjoyed my recipe, please help support my blog by checking out my recommended products. Some of the links below are affiliate links. This means that, at zero cost to you, I will earn an affiliate commission if you click through the link and finalize a purchase. Thank you for your support!
Nutrition Information:
Yield:
4
Serving Size:
1
Amount Per Serving:
Calories:

310
Total Fat:

21g
Saturated Fat:

9g
Trans Fat:

0g
Unsaturated Fat:

10g
Cholesterol:

40mg
Sodium:

505mg
Carbohydrates:

22g
Fiber:

6g
Sugar:

9g
Protein:

10g