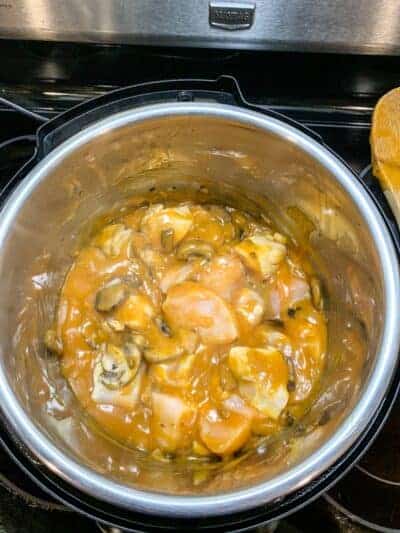 Using an Instant Pot Makes This Slow Cooked Chicken So Tender ❤️
The Instant Pot has to be one of my go to nerdy kitchen gadgets since it has so many capabilities. Whether you are slow cooking a chicken recipe like this Instant Pot Slow Cooker Golden Mushroom Chicken or pressure cooking a pot roast, it just works and the food is so yummy.
In this recipe, the prep work is very minimal and you can dump everything into the Instant Pot and walk away. The star of the dish is the golden mushroom soup that cooks into the chicken breast cubes all day, 8 hours low and slow. You can find golden mushroom soup in a can at your grocery store.
With the addition of fresh sliced mushrooms, this easy one pot meal is super satisfying. Don't worry about the chicken, it will stay moist and tender I promise!
Serve this alone, over rice or pasta and you have all the elements of comfort food without the fuss. Clean up is even easier since its all done in one pot!
Get My Golden Mushroom Chicken Recipe Below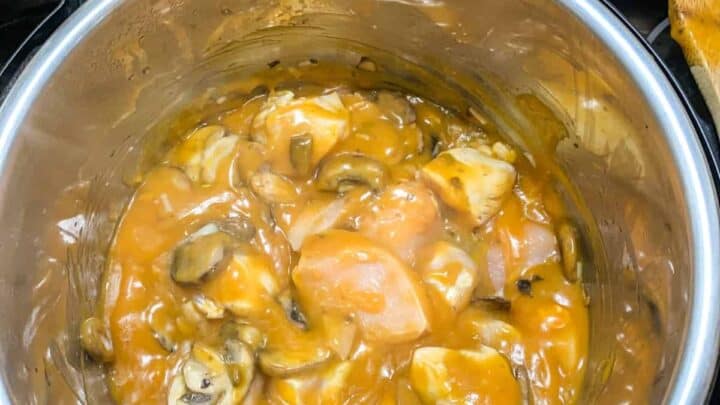 Instant Pot Slow Cooker Golden Mushroom Chicken
Total Time:
8 hours
15 minutes
This Instant Pot Slow Cooker Golden Mushroom Chicken is the Bomb!
Quick prep and dump recipe and allow the Instant Pot to do all the hard work for you all day while you work. Dinner is ready on time!
Ingredients
2 lbs fresh organic chicken breast cubed
1 lb fresh mushrooms of your choice
2 cans of Golden Mushroom Soup
1 Cup Chicken Stock 
1 Clove of Garlic Chopped 
2 TSP of Butter
1 Packet Italian Dressing Dry Mix
1 TBSP olive oil
8 oz of cream cheese
8 oz of ricotta cheese
Instructions
Set Instant Pot on saute mode and add butter and olive oil
Add Mushrooms and saute until golden- about 5 minutes
Add garlic and saute until fragrant - about 2 minutes
Add cubed chicken breast and stir
Add golden mushroom mix, cream cheese, ricotta cheese and stir
Add Italian Dressing mix and stir
Turn off Saute mode on Instant Pot and set for Slow Cook for 8 hours on low
Put cover on Instant Pot and make sure it is setup for venting
Recommended Products
If you enjoyed my recipe, please help support my blog by checking out my recommended products. Some of the links below are affiliate links. This means that, at zero cost to you, I will earn an affiliate commission if you click through the link and finalize a purchase. Thank you for your support!