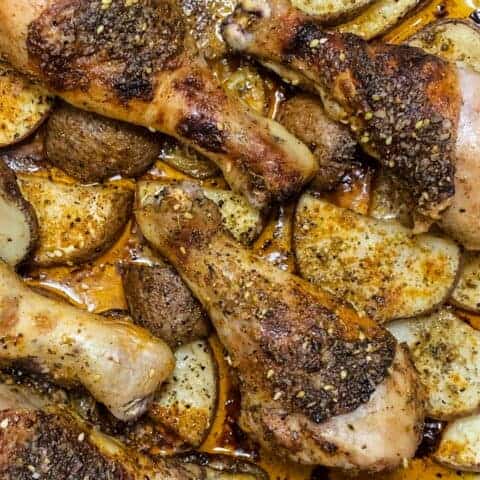 If you have never tried Za'atar spice before, this recipe is worth giving it a try. 
Za'atar Chicken is a very simple dish to introduce you to the flavors of the middle east.
I was introduced to Middle Eastern spices by my mother & father in law during my first holiday dinner with my wife's family before we were married. They made kibbeh, tabbouleh, stuffed grape leaves and lamb & beans. I have never tried lamb before and the spices that they used were new to me. 
Spices like AllSpice definitely gave the food a distinct taste. While it took me a little bit to get used to it as I was not very adventurous as a child nor young adult. Eventually I got used to it and I grew to like it. 
As I started really experimenting with cooking outside of my usual meat and potatoes type meals I had growing up, I did a lot of reading about other cuisines and had to give some a try. 
This Za'atar spice can be found at most international markets or you can order it online. I found it at a place called World Market, along with Sumac (another very distinct spice). 
Experiment is the key to great cooking
In my variation (which there are many many Za'atar mixtures) I chose to add a few other spices to get the flavor profile I wanted. Chili powder and Smoked Paprika gave the chicken a familiar twist, then the lemon pepper with the honey just works. 
You can try my recipe or use it as a baseline to create your own flavor profile, Lemon, Honey and Za'atar works well together so feel free to use fresh lemon zest or slices under the chicken. 
Serve with rice or your choice of veggies and enjoy!
Za'atar is one of my favorite spices, it goes well with sweet or with heat. This recipe is super simple to make and the flavors are intense! Take yourself on a trip to the Middle East tonight!
Add this Za'atar Chicken recipe to your rotation and watch the smiles!
Ingredients
5 or 6 Organic Chicken Drumsticks (approximately 1.5 Lbs)
3 Tbsp Za'atar Spice 
1 Tbsp Olive Oil
1 tsp Lemon Pepper
1 tsp Chili Powder
1 tsp smoked paprika 
1 tbsp honey 
1 tbsp kosher salt
Instructions
Preheat oven to 375F
In a small sheet pan, pat dry the chicken legs and carefully peel back the skin to expose the leg. ( wow sounds PG-13 )
Next in a small bowl combine olive oil, za'atar , chili powder, lemon pepper, smoked paprika , and a pinch of kosher salt
Mix the mixture into a paste then spoon or brush half of the mixture over the chicken legs coating all sides
Carefully pull the skin back over the leg and coat each leg with the rest of the spice mixture.
Next I drizzle some honey on each chicken leg to give it a pop of sweetness.
Arrange chicken legs on a sheet pan lined with parchment paper , or if you are fancy, a wire rack and place in the oven for 25 minutes. (In my case I used my cast enamel braiser, because I quick sliced up some potatoes and also coated with the Za'atar mixture)
Bake for 25 minutes, then raise temperature to 400F to crisp up skin for 10 minutes.
Check that internal temp of chicken is at least 165F with an instant read thermometer , I tend to let it go to 175F-180F since it is dark meat and I like that it is pull apart.
Remove from oven and serve with rice or over your choice of veggies.
Notes
Za'atar spice is also yummy on roasted carrots with a drizzle of honey !
Recommended Products
If you enjoyed my recipe, please help support my blog by checking out my recommended products. Some of the links below are affiliate links. This means that, at zero cost to you, I will earn an affiliate commission if you click through the link and finalize a purchase. Thank you for your support!
Nutrition Information:
Yield:
5
Serving Size:
1
Amount Per Serving:
Calories:

250
Total Fat:

13g
Saturated Fat:

3g
Trans Fat:

0g
Unsaturated Fat:

9g
Cholesterol:

139mg
Sodium:

1803mg
Carbohydrates:

5g
Fiber:

1g
Sugar:

4g
Protein:

27g