Whether you are a seasoned culinary expert or just getting started on your cooking journey, my best advice is to get a great cutting board. Not only does a good cutting board look great, it also gives you the confidence to chop, slice, dice and cut your way to great meals. Your cutting board is the spring board for all of your cooking will get the most use in the kitchen.
I have had my fair share of cutting boards during my culinary adventure and having a decent cutting board has definitely upped my cooking game. I own cutting boards made of all types of materials, shapes, sizes and I have found that the beefier your board is the better. Sure some types of boards or cutting sheets can serve a purpose, but my main board is always out on display and ready to work.
Rule of Thumb – Don't Lose Yours
In my opinion, the biggest reason to own a big hefty cutting surface to work off of is safety. A cutting board should be super stable, large enough to hold what you are prepping, easy to clean. Nothing is more unsafe than a cutting board that rocks or slides around. My choice is a large Walnut cutting board. Not only does this board look great on your counter, it is super stable. Because it has rubber feet and is hefty, it stays put no matter how much I am working on it. This board also has juice grooves to help keep your counter clean.
My Nerdy Rule of Thumb is You Must Have a Sharp Knife and Stable Cutting Board or Risk Losing Your Thumb!
Wood cutting boards are the preferred surface by professional cooks because they are "nicer" to your knives. Wooden boards allow the knife to cut into the wood and not dull the blade much. These small cuts do self heal and seal back up in most cases which makes cleaning your board very easy. I am a big knife nerd and having my main work surface be kind to my favorite knives is critical.
Cutting Board Nerdy Hacks For Ensuring a Stable Work Surface
So what can you do with your current cutting board to ensure that it is super stable if you do not have a large board yet? You can use this kitchen hack for all sized boards no matter what the material they are made of.
Clean the work surface that you will be working on, then rinse out your wash cloth so that it is damp. Lay the wash cloth down on your surface and place the cutting board down. This should make your board "stick" and a lot safer to use. Nothing is more annoying than a sliding or rocking cutting board as you are working, not to mention very unsafe.
Taking this hack to the next level, they make these silicon trivets or jar openers, I am sure you have seen them. Take a few of them depending on the size of your board and lay them down under the cutting board. This trick works great and requires no moisture for it to work. If you keep your board out on your counter (I highly recommend) this is a great cheap option and works.
Other Types Of Cutting Boards, Some To Avoid, Some To Keep
One of the most controversial concepts that I see talked about online is cutting proteins and meats on your cutting board. Here is my opinion on this topic so I will make this super simple and short. You Can Cut Meats & Proteins on Your Cutting Board! (with a small caveat).
Bacteria and cleanliness is one reason why most people shy away from cutting meats on their wood cutting boards. I just have to tell you, I only cut cooked meats on my wooden boards. I found that the lower quality wood cutting boards often ends up with gouges in them over time. This is where bacteria can get into a live. I have used many cheaper cutting boards in the past, and many are made from softer woods cheaper woods. I definitely recommend using another type for cutting meats if your board has large cuts in it. See my recommendation below for task specific cutting boards.
Do you own a bamboo cutting board? These boards are all the rage these days and while they are perfectly fine for your everyday use. Just know that bamboo boards will be a little harder on your knives after continued use. There is a reason it is said "Chinese bamboo is very very strong." in my best Jackie Chan voice.
Plastic Cutting Boards & Why I Like Them
My choice for cutting raw meats and other proteins is a plastic cutting board that can take the beating of the dishwasher. This is my choice and it works for me. Using plastic boards in my opinion, should only be used for special uses. Plastic cannot stand up to the beating that wood can from your knives if used on a daily basis.
Also I own a few plastic "sheet" type boards which also have a purpose in the kitchen. The I own like these color coded for their uses, veggies, chicken, fish, and beef. I like having these cutting sheets handy when your other boards are tied up is great and they clean up quickly. They are one sided and have a grippy feel on the bottom side and are great when your other boards are tied up and you just need to cut something quickly. Typically I use my chicken sheet board to cut up chicken and that is it. Chicken in the raw just needs its own board in my opinion.
Cutting Board Types To Stay Away From
Boards to stay away from as your main cutting surface would be made from anything super hard like glass, marble, stone, stainless steel, etc. These boards will wreak havoc on your knives and is super unsafe. A dull knife is a dangerous knife.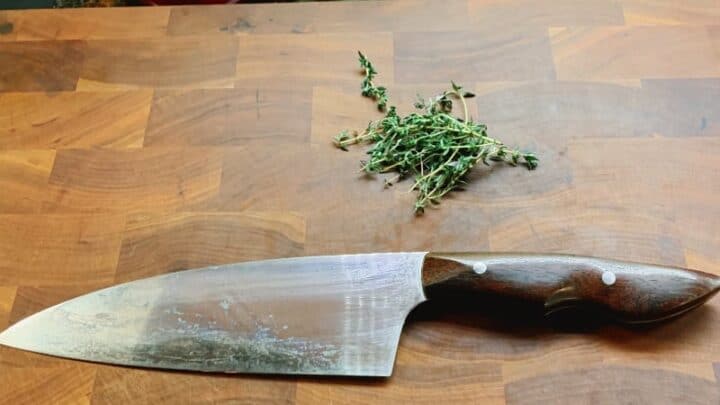 How To Clean Your Wooden Cutting Board Properly
Cleaning your cutting board is something you should so after every use. Your cutting board gets perhaps the most use in the kitchen. Beyond daily cleaning, how do you ensure you keep your favorite helper ready to work ?
I have a post Why You Need a Great Cutting Board which outlines why it is important to have a nice sturdy board to work on. Cleaning your expensive walnut end grain cutting board should be top priority as it will last for years of enjoyment.
So how do you exactly clean these boards without warping them? Definitely the dishwasher is a big NO NO! My process involves using a damp soapy dish rag and a little bit of lemon juice. Lemon juice, yes this is a big helper to get that onion and garlic smell out of the wood.
Materials
Dish Soap
Dish Rag
Lemon Juice
Cutting Board Oil or Mineral Oil
Instructions
Dampen a wash cloth with warm water and a little dish soap
Scrub lightly in all directions on the cutting board surface by doing small circles and then back and forth motions.
Rinse your rag and keep damp and wipe the board again. Careful that you do not put too much water on the surface.
Put a little lemon juice on the rag and wipe the board again, taking extra time where you work mostly near the front cutting onions, garlic and other strong odor foods.
Again rinse the rag and wipe down one more time
Take a dry towel and try to dry the surface and ends as much as possible.
Pour a few lines of the board oil or mineral oil on the board and using a clean dry towel rub the oils into the wood as well as the end grain. You will see it gets shiny.
Using another dry towel, lightly wipe any excess oil off of the board and stand the board up against your backsplash to allow to dry thoroughly.
Recommended Products
If you enjoyed my recipe, please help support my blog by checking out my recommended products. Some of the links below are affiliate links. This means that, at zero cost to you, I will earn an affiliate commission if you click through the link and finalize a purchase. Thank you for your support!