Learn How Easy It Is To Make Fantastic Flavorful Pepper Soup Quickly
I am a big fan of Stuffed Peppers and it is an often requested dinner around my house. Stuffed Peppers is something that I usually plan for and make sure I have enough peppers to make it. This time around it was last minute and I had to scramble and did not have enough to make them. I thought why not make Stuffed Pepper Soup!
Gazing into my refrigerator I only had a few peppers to play with but did have most of the other ingredients to make soup. I also had a few other veggies that would work in the soup so I went to work getting this recipe pulled together.
Soup Is A Perfect Way To Use Up Vegetables In Your Fridge
To make my Stuffed Pepper Soup, I grabbed a single green pepper, a handful of small bell peppers, a few baby carrots and a few cut pieces of celery. This was a perfect way to use the small quantities of these veggies left in my fridge drawer.
For the chicken stock, I like to make my own chicken stock with chicken scraps leftover from store bought rotisserie chicken or when I make wings. I also keep a freezer bag of chicken scraps and also veggies scraps in my freezer just for making stock. This recipe used three pints of chicken stock frozen which I put into a pot and slowly defrosted for this Pepper Soup. You can use store bought chicken or vegetable stock which is also very flavorful.
Lastly I had made burgers the other night and had purchased on sale fresh premade ground beef patties which I didn't use all of them so that was perfect for the soup. There was just about 1lb of ground beef to brown and break up.
Let's Make Some Stuffed Pepper Soup
Prep work for this soup was pretty quick, take out your favorite cutting board and knife and get to work dicing up the carrots, celery, peppers and onion. I like to keep my cutting board right next to my stove so I can easily scoop up the veggies straight to the stove top.
Take out a large pot and heat it to medium heat. Add a TBSP of olive oil to the pot and add your ground beef. Brown the ground beef for about 5-7 minutes and remove to a bowl. In the same pot that you browned the ground beef, add half of the vegetables and cook stirring until softened and fragrant.
Add the cooked ground beef, then the remaining veggies and stir. Cook for about 5 minutes and then add your chicken stock. Give it a good stir and bring it to a hard simmer and lower the heat. Taste the soup and see if you need to add salt. I always add salt around this point slowly tasting it to make sure it is not too salty. If you used store bought stock, make sure to buy the low sodium version if you can because its easier to add salt than it is to remove it. Simmer the soup for about 40 minutes.
Cook The Rice Separately
I like to cook rice separately and add it to the soup when it is finished. The reason I do it this way is that I can control the texture of the rice and also not loose any of the soup stock. If you put uncooked rice into the pot now, the rice will soak up the stock (which would be flavorful) but it also tends to get mushy. Cooking the rice separately ensures that the rice is perfectly tender and allows you to add as much rice as you like to your serving of soup.
A Rice Cooker is super handy here. I am not that great at cooking rice so I usually avoided rice at all cost unless it was boil in bag or microwave type rice. There is nothing wrong with those types of rice or the way its cooked at all. It was not until I purchased a small Aroma Rice Cooker that changed the game for me forever. These little machines are super efficient and makes perfect rice every single time. Rice cookers like the one that I have are not that expensive at all and trust me you will love it if you like rice.
Back to the soup, I digressed… Cook your favorite rice, brown or white according the the directions on the package. I cooked 2 cups of white Carolina Rice in my Rice Cooker for this recipe.
Serve Your Stuffed Pepper Soup – Deconstructed
After about 40 minutes and your rice is done cooking, its time to construct the deconstructed Stuffed Pepper Soup. In a serving bowl spoon 2 heaping spoon fulls of cooked rice, then ladle a few ladles of soup around the rice. Top with grated Parmesan Cheese and serve. This is so delicious and hearty and tastes just like Stuffed Peppers without all the work of stuffing and cooking the peppers.
Get My Stuffed Pepper Soup Recipe Below: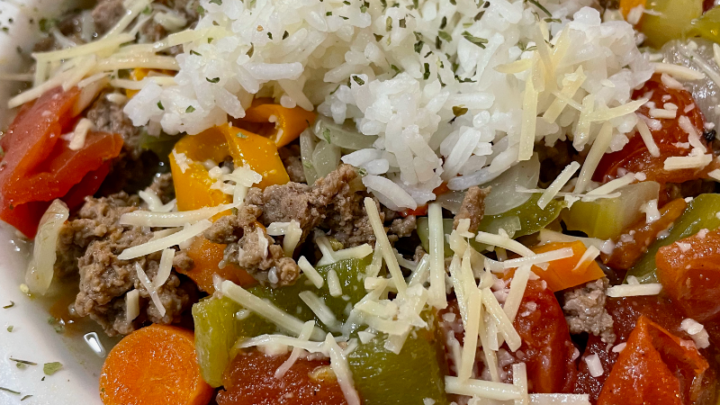 Yield:

8
How To Make Stuffed Pepper Soup Fast
Additional Time:
10 minutes
Stuffed Pepper Soup is Fantastic and SOUPer easy to make! You can make this soup in under an hour and have leftovers for lunch all week. For this recipe I used what peppers and other veggies I had in my fridge at the time.
Ingredients
1lb Ground Beef
1 Large Green Bell Pepper Diced (Use 2 if not have other peppers below)
6 Small Red, Yellow and Orange Peppers Diced or Sliced (what I had in my fridge)
1 Medium Celery Stalk Diced
5 Baby Carrots Diced
1 Medium Yellow or Sweet Onion Diced
3 Italian Plum Tomatoes Diced
8 Cups of Chicken Stock or Vegetable Stock (I used homemade Chicken Stock)
2 Cups Cooked White Rice (I cook this separately and add it to the bowl)
1 TBSP Olive Oil
Instructions
Prepare The Stuffed Pepper Soup
In a large pot over medium heat, add a tablespoon of olive oil and add ground beef to brown breaking it up as you stir. 5-6 minutes and remove to a bowl
In the same pot, add half of the onions, carrots, celery and peppers and cook until softened.
Add the ground beef, then the rest of the veggies and give it a good stir.
Add the chicken or vegetable stock to the pot and bring to a boil, then lower.
Add tomatoes to the pot and cover - simmer 40 minutes.
Add 2 cups of water and 2 cups of white rice to a rice cooker or another pot with lid and cook.
Once the rice is finished, the soup also should be about finished.
Serving The Soup
In a bowl, spoon two heaping spoonfuls of cooked rice, then ladle the soup around the sides of the rice. Top with grated Parmesan Cheese and serve!

Notes
I used a bunch of veggies I had in my fridge, carrots, celery, and a few small sweet bell peppers that needed to be used. If you do not have these items, you can omit and just add an extra green bell pepper to the soup.
For the tomatoes, you can use a can of diced tomatoes if you do not have fresh tomatoes.
Recommended Products
If you enjoyed my recipe, please help support my blog by checking out my recommended products. Some of the links below are affiliate links. This means that, at zero cost to you, I will earn an affiliate commission if you click through the link and finalize a purchase. Thank you for your support!
Nutrition Information:
Yield:
8
Serving Size:
1
Amount Per Serving:
Calories:

322
Total Fat:

13g
Saturated Fat:

5g
Trans Fat:

0g
Unsaturated Fat:

7g
Cholesterol:

58mg
Sodium:

492mg
Carbohydrates:

26g
Fiber:

1g
Sugar:

8g
Protein:

23g