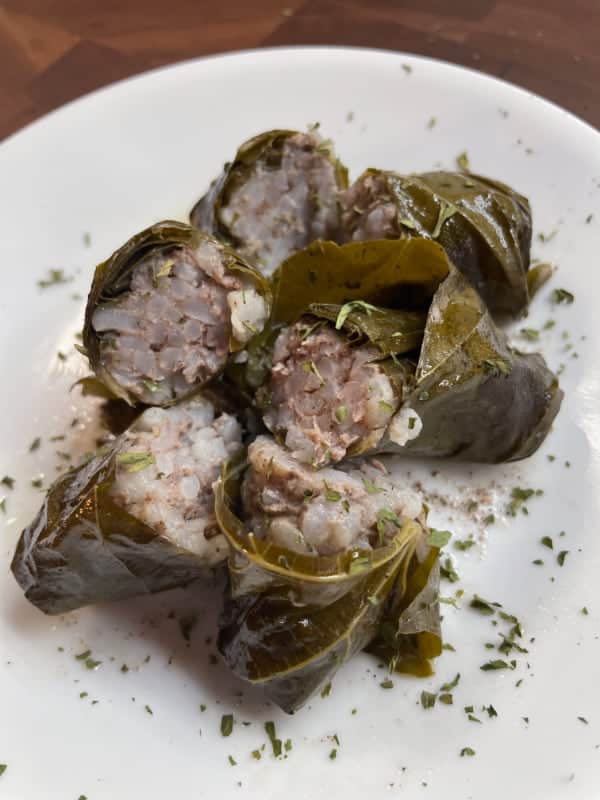 Want to Learn How to Make Stuffed Grape Leaves The Lebanese Way?
I have never had stuffed grape leaves before I was married. Truth is I was not very experimental with the food that I ate growing up. It was not until I got married that I started to experiment with foods. Traditionally for every holiday, my wife's mother would make their traditional Lebanese food that her grandparents made growing up in Michigan.
Stuffed grape leaves can be made a variety of ways. With rice and spices, with ground beef and for this recipe with ground lamb. This was my first time making these due to the pandemic and I wanted to try my hand at replicating this dish. It is a very nostalgic dish for my wife's family so I had to be absolutely sure I followed the recipe and process.
Rolling Grape Leaves is a Family Affair
Every Christmas my wife's mother makes a double batch (double my recipe) of these stuffed grape leaves for the family. Usually my wife, her sister and mother spend the afternoon preparing and rolling these grape leaves with a nice glass of wine while catching up on family gossip. It's definitely a fun and rememberable time for my wife growing up. Call your friends over and teach them how to make these and have fun along the way.
Process is Everything For This Recipe
I am a big NERD when it comes to process. I think that is why I love cooking so much. When you are cooking you define a process for what you are cooking the first time you cook it. Then that is that is what you do each time. Now that is a very interesting statement.
When making stuffed grape leaves, a very delicate end product, you must have a good process and recipe. I also feel whole heartedly about having my workspace setup before I start the process. When making grape leaves the biggest issue you could run into is that leaves dry out making them impossible to roll.
I created my workspace with an aluminum sheet pan as my "cutting" board workspace because you can keep the surface moist. The grape leaves also slide easier on a sheet pan and makes rolling a breeze. I also like to work from right to left, which technically is because of where my stove is.
Setup the plate of grape leaves on the far right, the bowl of lamb and rice mixture next, then rolling station is in the center and the cooking pot on the left. For me it makes things super efficient and removes the worry of drying out the grape leaves.
How To Make Stuffed Grape Leaves With Lamb Recipe Below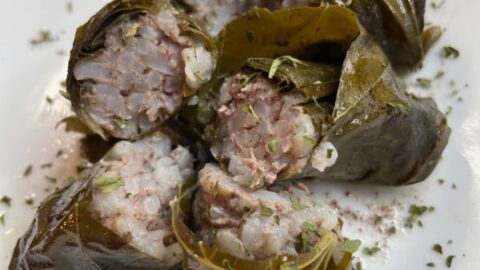 Yield:

50-60 Grape Leaves
How To Make Stuffed Grape Leaves The Lebanese Way
These stuffed grape leaves are a holiday staple for my family. A closely guarded secret recipe and the process you must go through is truly epic.
Ingredients
1 Jar Grape Leaves (60-60 leaves)
1 lb Ground Lamb
1 lb Lamb Shoulder Chop
1 1/2 Cup Long grain par boiled white rice
1/2 tbsp fresh ground black pepper
2 tsp Sea Salt
3 tsp Cinnamon
3 tsp Ground AllSpice
Juice of 1 Lemon
Instructions
In a bowl of water, carefully take out all of each of the grape leaves and unroll them so they are laying flat upside down. Rinse the leaves under water a few times and leave them in the bowl of water while you prepare the other ingredients. The goal is to rinse out all of the vinegar from the leaves.
Next, in another bowl of water add your rice and rinse until water runs clear, set aside.
Now it's time to start building flavors.
Season your fresh lamb shoulder chop with sea salt and black pepper. Next preheat a pot with lid large enough to hold about 8 cups of water over medium heat. Add a glug of olive oil to the bottom of the pot.
Next take your lamb shoulder chop and sear both sides of the chop until its got a decent char on it, about 4 minutes a side. move pot off of the heat.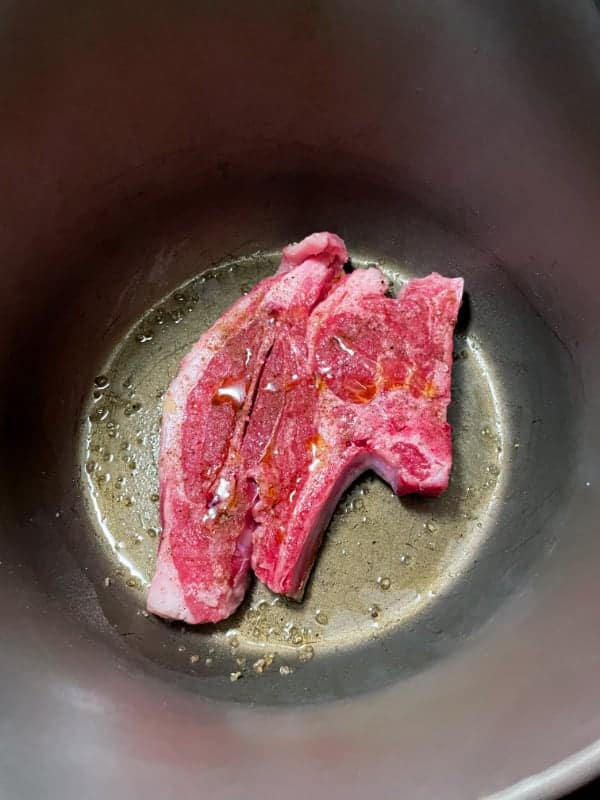 Making the stuffing for the leaves.
Combine the sea salt, cinnamon, all spice and black pepper in a small bowl. Combine ground lamb and rice in a mixing bowl working with your fingers to gently combine the rice into the meat. Add half of the spice mixture to the rice mixture and lightly toss to combine. If you over work the mixture it becomes too dense so I like to just use my fingers
Set Up Your Grape Leaf Rolling WorkStation
This is the fun part and oddly soothing. Rinse the leaves out once or twice more with fresh water and set next to your workspace.
Here is my setup for assembly which keeps your counters fairly clean and allows you to make up to 4 leaves at a time.
In an aluminum rimmed sheet pan, fill a small bowl with water and a little sea salt, then sprinkle the pan with water to moisten the pan. Set the water bowl inside the sheet pan on the top right or left corners.
Next take you rice mixture and place it on the right ride of the sheet pan along with a clean dinner plate. On the left side oft the sheet pan place your pot with the lamb shoulder in it. Depending on the size of your pot the lamb shoulder should cover the bottom of the pot to keep the leaves from sticking or burning while cooking. Nerdy Tip: If you have gaps that the lamb does not cover, slice up a tomato to lay in the gaps.
Ok now that you have our workstation setup, it's time to assemble these grape leaves.
Take about 10-12 leaves out of the water bath and stack them on the dinner plate. Stems should point towards you and the leave should be laying on its face. Take 3-4 leaves off of the plate and place face down on your sheet pan. Using a small metal spoon scoop out spoon full of rice mixture and place directly where the stem would be. Now this is the tricky part, fold the bottom left and right sides of the leaves over the mixture and carefully roll the bottom forward tucking the leaves in as you roll forward. Roll the leaf up but not too tight or the mixture will become dense while cooking.
Lay the finished rolled leave on the bottom of the pot seam side down. As you lay the grape leaves in the pot, I like to work clockwise around the outside arranging the grape leaves like minutes on a clock. If this is the first time doing this, don't worry you will get faster over time. By doing 3-4 at a time on the moistened sheet pan allows you to crank out leaves fast.
Work through the pile of leaves you have on your dinner plate until you have the first layer of the pot filled evenly. In my pot I was able to get around 12-15 leaves before needing to start the next layer. To keep the leaves moist, take some water and carefully fill the pot until the water is at the top of the leaves, then start building the next layer.
For the second layer, follow my steps above but this time arrange the leaves straight up and down like laying bricks, so that this layer criss crosses the first layer. This allows the leaves to cook evenly and prevents sticking. For the third and fourth layers repeat layer one arrangement for layer three and for layer four if you reach that level, follow layer 1 arrangement. Nerd Tip: I like to drizzle olive oil and a sprinkle of salt and pepper between layers, along with some of the reserved spice mixture.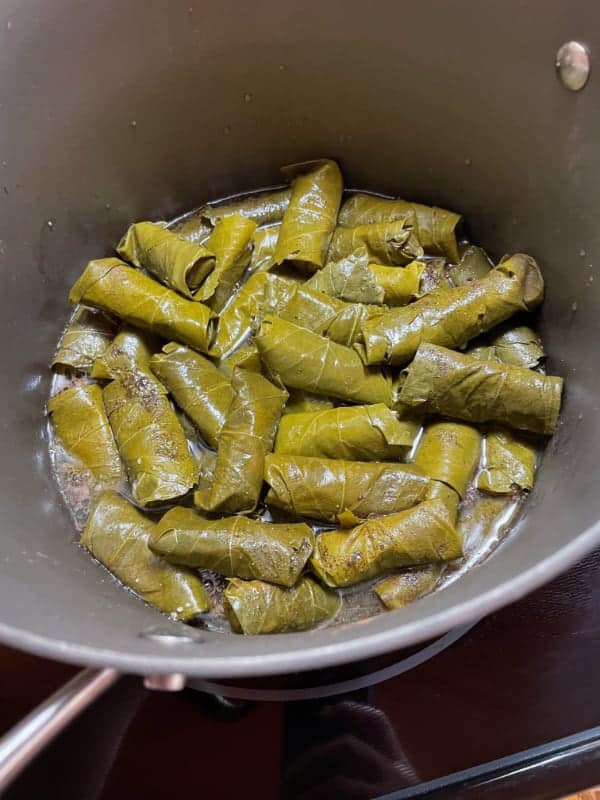 You may or may not run out of rice mixture depending on the how many grape leaves were in the jar that were usable. Some leaves are just too small to use which I use to layer on top of the lamb chop.
All in all this grape leaves assembly process should task you about 30-40 minutes.
Once the pot is filled with all of the grape leaves you made, take a fresh lemon and squeeze the juice over the leaves, then carefully fill the pot with water to cover the top layer just slightly. Next take a glass plate that fits in the pot and lay it on top of the grape leaves so that they are submerged and can't float.
Cooking The Stuffed Grape Leaves
Heat this pot covered on medium watching that it does not boil. Boiling the water will be a disaster to the leaves so you must carefully watch. You want a good simmer, but not boil to cook the rice. The first time I did this I walked away and came back to chaos in the pot. Good simmer the pot for 30 minutes and then reduce the heat to low for 35 minutes.
You will know when the grape leaves are done when you can bite through once cleanly and they are not falling apart. The rice should be cooked al dente.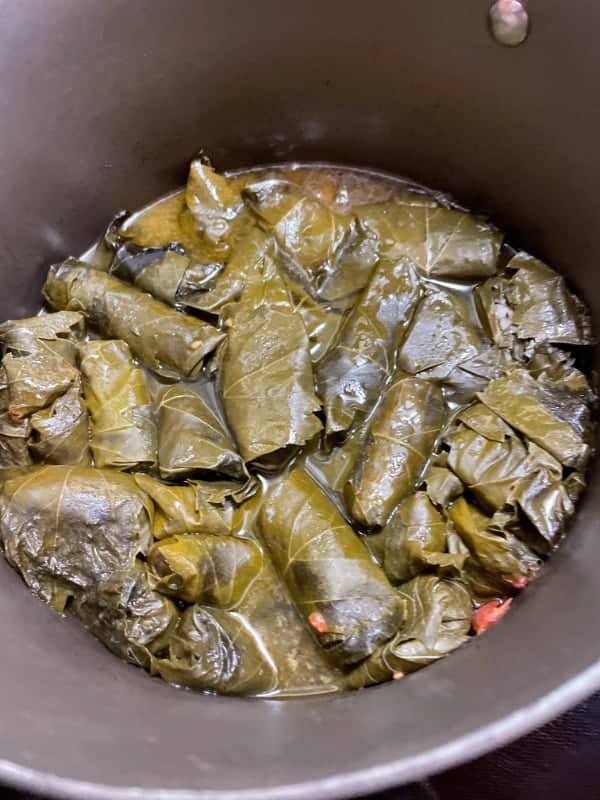 Recommended Products
If you enjoyed my recipe, please help support my blog by checking out my recommended products. Some of the links below are affiliate links. This means that, at zero cost to you, I will earn an affiliate commission if you click through the link and finalize a purchase. Thank you for your support!
Nutrition Information:
Yield:
10
Serving Size:
6
Amount Per Serving:
Calories:

213
Total Fat:

11g
Saturated Fat:

5g
Trans Fat:

0g
Unsaturated Fat:

6g
Cholesterol:

73mg
Sodium:

545mg
Carbohydrates:

6g
Fiber:

1g
Sugar:

0g
Protein:

21g