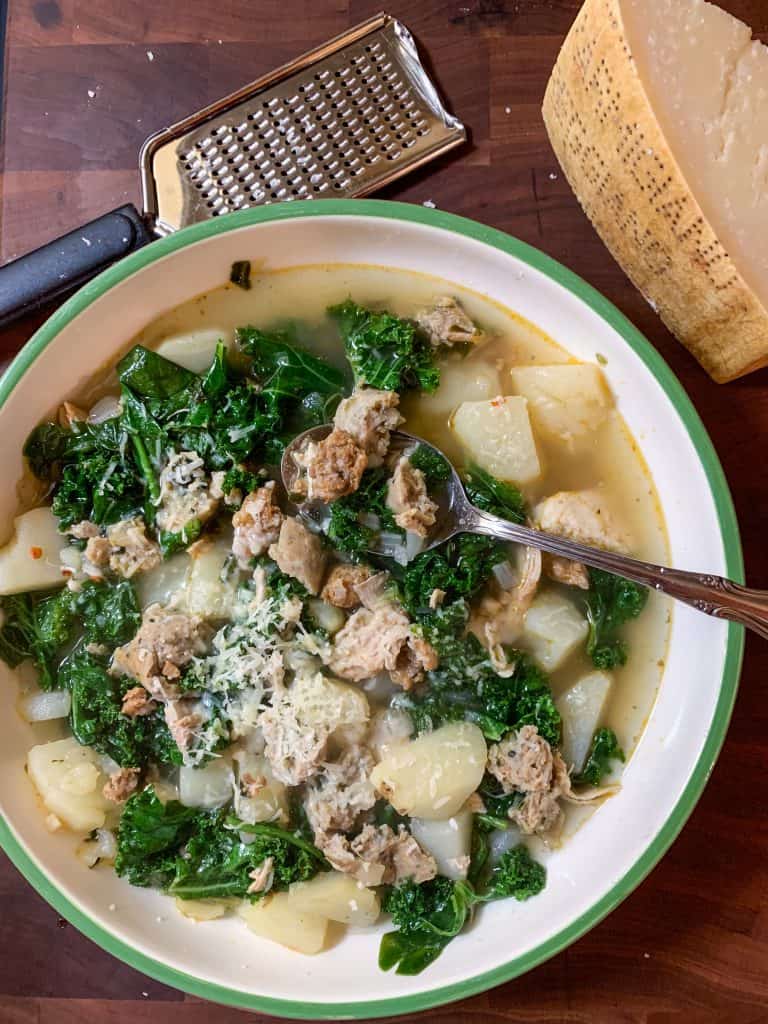 Want to Learn How to Make Olive Garden Zuppa Toscana Sausage & Kale Soup?
I love Olive Garden Zuppa Toscana Soup. When I was unable to go to Olive Garden for indoor dining, I decided to make this Toscana Soup at home. The Italian sausage, potatoes, kale and rich chicken stock makes this soup super hearty and very tasty.
This Soup Starts With The Chicken Stock
If you are serious about cooking you know that nothing goes to waste. When my wife brings home rotisserie chicken for dinner from the grocery store, after we eat I save the chicken bones. When I make chicken wings, yep, I save the wing tips when I break down the wings. Cutting up veggies prepping a meal or for prepping for lunches, yes save those scraps!
If you do not make your own chicken stock, do not worry you can use chicken stock from the grocery store. If you use store bought stock, I always buy the low sodium version because you can always add salt.
With a Few Ingredients This Soup Comes Together About 1 Hour
When making Zuppa Toscana, the main star of the soup is the sausage. I like to mix hot and sweet italian sausage in this soup to give it a little zip. You can buy this sausage either in casing or without. Breaking up the sausage when cooking does infuse the flavors into the soup.
Fresh kale and spinach brightens up this soup and pairs well with the flavors of the sausage. When prepping the kale, I try my best to only use the leaves and toss those stems in a bag for stock. I add my kale and spinach towards the end when cooking this soup so that they stay firm and colorful. Potatoes diced into 1/2 inch cubes allows the potatoes to cook evenly and absorb all that yummy flavor.
Let's Make This Toscana Soup Luxurious
I am a big fan of using wine and butter to add a bit of luxury and creaminess to my dishes. After cooking your sausage in your pot, remove the sausage and add your garlic and onions. As they cook, scrap the pan to get all the bits and bobs. After a few minutes of cooking, add your white wine and allow it to reduce as you continue to scrape. Add the butter stirring until it incorporates, then add your chicken stock.
Bring the stock to a simmer and add your sausage back to the pot along with the potatoes and simmer for about 30 minutes. With about 15 minutes left cooking the soup, add your fresh spinach and kale.
Pat yourself on the back, you just made Olive Garden Zuppa Toscana Soup!
I like to grate fresh Parmesan cheese on top of my soup when serving, so darn good.
How To Make Olive Garden Zuppa Toscana Soup Recipe Below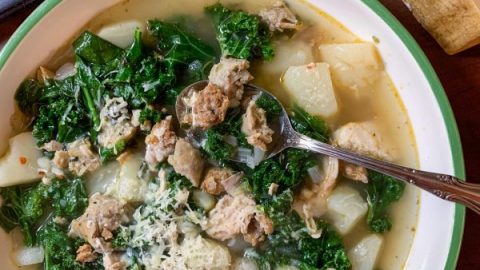 Yield:

8
How To Make Olive Garden's Zuppa Toscana Soup
One of my favorite soups is Olive Garden's Zuppa Toscana Soup. The sausage, potatoes and kale are magic! Here is my twist on their famous recipe, pretty darn healthy! ⁠
Ingredients
1/2 pound spicy Italian ground sausage⁠
1/2 pound sweet Italian ground sausage

4 tbsp butter⁠
1/2 cup white wine

1 onion, diced (white or sweet)

1 tbsp minced garlic

8 cups chicken stock (I had some I made homemade from leftover chicken bones)

1 cup water

4 medium potatoes, cut into 1" squares 

3 teaspoons salt 

1 teaspoon fresh ground black pepper

2 cups fresh chopped kale⁠
2 cups fresh spinach ⁠
1 cup of leftover chicken (optional, I had some to add)⁠
Instructions
In a large pot, sauté sausage 8-10 minutes until browned. Transfer sausage to a plate for use later. ⁠
Back in the pot you just cooked the sausage in, add butter and cook onions over medium heat until tender for maximum flavor.
Add garlic and cook for another minute until fragrant, careful not to burn. ⁠
Add chicken stock, water, potatoes and bring to a boil. Boil until potatoes are tender.
Stir in the kale and spinach.
Add sausage and stir. (I added my leftover chicken breast)⁠⁠
Serve with grated Parmesan cheese on top and enjoy! ⁠
Recommended Products
If you enjoyed my recipe, please help support my blog by checking out my recommended products. Some of the links below are affiliate links. This means that, at zero cost to you, I will earn an affiliate commission if you click through the link and finalize a purchase. Thank you for your support!