Want to Learn How to Make Pizza On Your Grill?
I have always wanted to try to make grilled pizza on my grill for the longest time. I used to work at a Pizza Shop when I was just out of high school and my job was to prep the dough, cheeses, toppings, and various other things you need to make pizza. This was the job that started my foodie passion of cooking. I recently picked up an Oklahoma Joes Pellet Grill for a very good deal so I had to try my hand at pizza.
Typically a real deal pizza oven gets up to over 700 degrees F and has a flat cooking surface. Trust me its hot, I have scars on my forearms from burning myself on the pizza oven door. You definitely want to get your grill as hot as you possibly can.
I am using a Lodge 12″ Cast Iron Skillet to make this pizza because it transfers and retains heat very well. You want to setup your grill for indirect heat so that you do not burn your crust. In my new grill, it has a heat deflector to allow the heat to wrap around the inside of the grill. Setting my pan in the middle gets me the best results.
It's All About The Dough
Pizza dough is one of those ingredients that usually a trade secret from pizza shop to pizza shop. You can make your own dough or buy some at the grocery store premade. If you are lucky enough to have a pizza shop that will sell you dough, go that route!
To make this less complex and not get nerdy about dough, we will start this cook assuming you already have dough made. I will make a post about the dough I make in the near future. Take your dough out of the fridge and let it sit on the counter in its bag for about 30 minutes. You want room temperature dough to stretch.
Process is Everything For This Recipe, Again
I am a big NERD when it comes to process. I think that is why I love cooking so much. When you are cooking you define a process for what you are cooking the first time you cook it. This process for cooking pizza on the grill is basically a two step process. Cook the dough, Cook the toppings (if you have precooked meats).
My secret to grilled pan pizza is coating the cast iron pan in a very good olive oil. Then take your stretched pizza dough and place it in the pan. Brush more olive oil in the pan and poke small holes all over the dough in the center. This keeps the pizza dough from bubbling up and allows air transfer.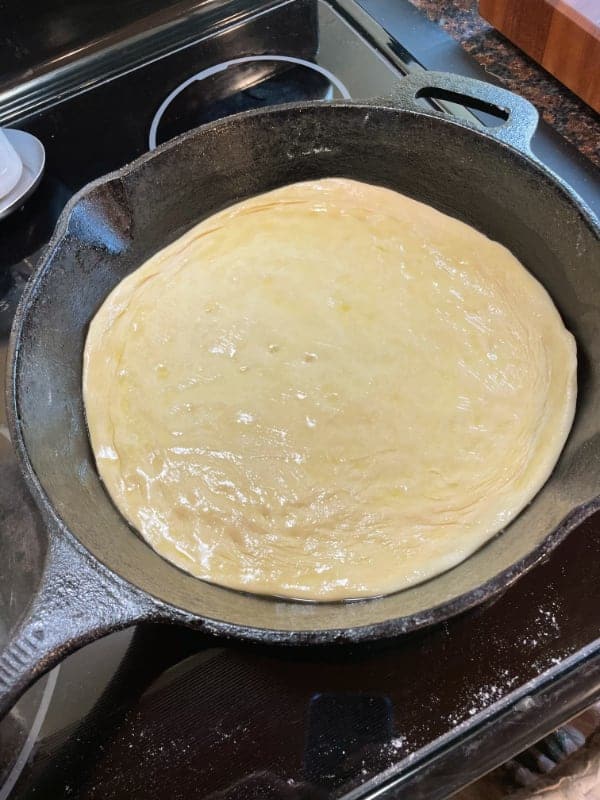 Once you have your grill cranked up to over 500F, its time to cook the dough partially. If you are using charcoal or gas, you need to move the charcoal to the side or turn off one of the burners. If you are daring, you can cook directly over the heat, just keep an eye you do not burn the crust. Your pizza dough should turn golden brown after about 15 minutes. Remove the pan fro the grill and lets add some toppings.
For my grilled pizza I used shallots, green peppers, deli cooked ham, cheese and a little tomato sauce. My first layer is aways cheese, then sauce, then toppings, then more cheese. I like this strategy so that you get cheese that does not slide off when you bite it.
Let's Make Some Grilled Pizza!
Once you have added your toppings to your pizza, drizzle a little more olive oil over the pizza and around the edges. Place your pizza back into your screaming hot grill for about 15 minutes, checking the underside for burning.
If all goes well, your pizza will come out absolutely delicious and perfectly cooked. After you try this one time, you will be thinking about making pizza different ways because it is so easy.
How To Make Grilled Pizza On A Pellet Grill Recipe Below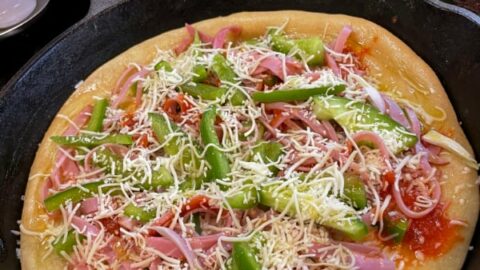 Yield:

4
How To Make Grilled Pizza On A Pellet Grill
Additional Time:
30 minutes
Total Time:
1 hour
20 minutes
After you try this Grilled Pizza Recipe, you will be thinking about making pizza all the time because it is so easy!
Ingredients
12 oz Pizza Dough (Store bought or fresh made)
1/2 Green Pepper Sliced Thin
2 Medium Shallots Sliced
4 Slices Deli Cooked Ham
1/2 cup Mozzarella Cheese
1/2 cup Marinara Sauce
1/4 cup Extra Virgin Olive Oil
Instructions
Take your dough out of the refrigerator and let come to room temp on the counter. Next preheat your grill to 500F - On my Oklahoma Joes Rider Pellet Grill set to high. If using gas or charcoal, setup the grill for indirect heating. Get the grill to 500f or as close as you can to it and then move charcoals to one side of the grill, or for gas shut off one side of the grill.
Prepare The Dough
Why the grill is preheating about 30 minutes, you can begin working on stretching the dough. I am using my favorite Lodge Cast Iron 12" Pan since cast iron retains heat fast.
On a floured work surface like my end gran cutting board, place the ball of dough in the center and start working the dough with the outsides of your hands. Slowly spin the dough as you stretch it out large enough to fit in the cast iron pan.
Next, take some good Olive oil such as California Olive Ranch, and using a brush, coat the entire inside of the pan. Lay the pizza dough inside the pan and rotate it around to coat the bottom of the dough with olive oil. Add a few gluts of olive oil to the top of the dough and brush the entire surface and edges.
Almost ready for the grill, go check and see if it is at temp. Before we add the pan to the grill, take a fork and randomly poke small holes all over the dough. This helps it from puffing up when we cook it.
Slice your shallots, green peppers and ham into strips and set aside.
On a preheated grill, place the pizza pan with dough only in it and cook for 15-minutes. You can check the bottom of the after 10 minutes to make sure it is not burning. It should be golden brown after 15 minutes and remove from the grill.
Now Time For Pizza Toppings

Let's get started with toppings. I like to brush a little more olive oil on the dough before adding my toppings. I started with cheese first, then added a little sauce, then arranged the green peppers, shallots and sliced hame strips. Top the pizza with a little more cheese and a few drizzles of olive oil.
Back to The Grill to Cook
Place your pizza back into the grill that should be super hot by now and cook for another 10-15 minutes, checking the bottom of the pizza a few times along the way. You can rotate the pan to ensure the pizza is getting cooked evenly half way through.
Remove from the grill, let it cool 5 minutes and then slice it up! Enjoy!
Recommended Products
If you enjoyed my recipe, please help support my blog by checking out my recommended products. Some of the links below are affiliate links. This means that, at zero cost to you, I will earn an affiliate commission if you click through the link and finalize a purchase. Thank you for your support!
Nutrition Information:
Yield:
4
Serving Size:
1
Amount Per Serving:
Calories:

386
Total Fat:

11g
Saturated Fat:

3g
Trans Fat:

0g
Unsaturated Fat:

6g
Cholesterol:

55mg
Sodium:

1202mg
Carbohydrates:

47g
Fiber:

3g
Sugar:

6g
Protein:

25g