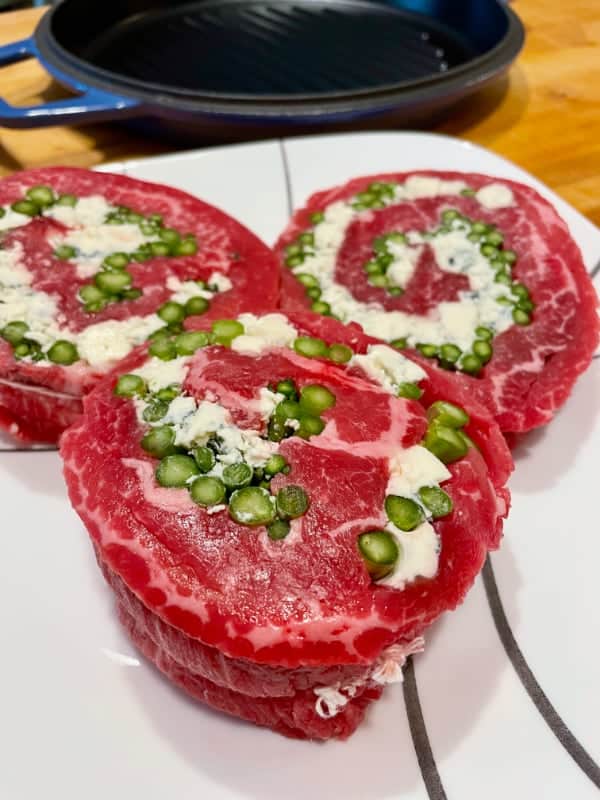 Want To Make Something Delicious and New With Flank Steak?
These Flank Steak Pinwheels are amazingly simple and delicious to make. Flank steak typically is made into tacos or cooked on the grill hot and fast. It is very tender when cooked in this manner, but this recipe will take it to the oven.
This flank steak will end up tender in the end and be super juicy thanks to the yummy melty blue cheese sauce that cradles the steaks in the pan.
Prepping Your Flank Steak
In order to make these flank steak pinwheels, you need to start out with a decent sized steak, something in the order of 1 – 1.5 lbs and about an inch thick. You need a long steak so that you can roll it up with blue cheese and asparagus.
Once you have your perfect flank steak picked out, open it up and roll it out flat on a cutting board. Salt and pepper it as you would almost any steak, Kosher salt is what I use because it is less salty. Now that you have it rolled out and seasoned, its time to add some flavor layers.
Bring On The Flavor
Just two simple ingredients will be used to stuff these steak pinwheels. Asparagus and Blue Cheese seals the deal in the funky flavor packed stuffing. Peel your asparagus with a vegetable peeler like you would a carrot, this will help the asparagus cook and keep them from being too tough.
Next, lay each of the asparagus stalks across the steak like rail road tracks, leaving space in between the entire length of the steak. I like to lay them down so that the tops of the stalks are in even one side of the steak. Now bring on the funk! Add the blue cheese crumbles in between the asparagus stalks. Almost done!
Pinwheel – Roulade – Stuffed Meat
Now we need to get this flank steak rolled up and ready for cooking. Carefully roll up the flank steak starting at the narrower side of the steak, or tip. Roll the entire steak up so that it forms a big pinwheel. Next, using a sharp knife, cut the asparagus that may be sticking out of one side, for me it was the bottom of the stalks (they are bigger and tend to not cook all the way so lop them off.
Now that you have a flat surface on one side of the pinwheel, we can start tying up the wheels. Using butchers twine, carefully tie up three even sections of the steak leaving about 2 inches in between.
Let's Get Cooking These Steak Pinwheels
Preheat a grill pan, I used my Misen Grill Pan to over medium high heat, also preheat your oven to 350F.
Once the pan is preheated, carefully sear each pinwheel on both sides. It's tricky to flip them, but tongs and a good spatula worked for me.
Once they have a nice crust, place the oven safe grill pan in the oven for about 15 minutes or until the meat reaches 125F-130F with an instant read thermometer. I use a ThermoPro Digital Instant Read Thermometer I picked up on Amazon for under $20.
Take your beautiful pinwheels out of the oven and let rest for 10 minutes and serve. The blue cheese is super yummy and don't forget to spoon any of the pan dropping over your plate.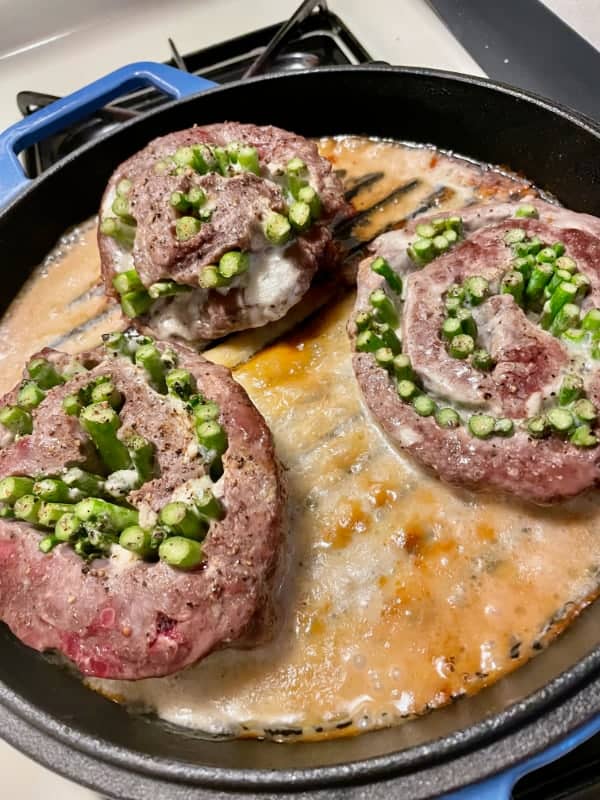 How To Make Flank Steak Pinwheels Recipe Below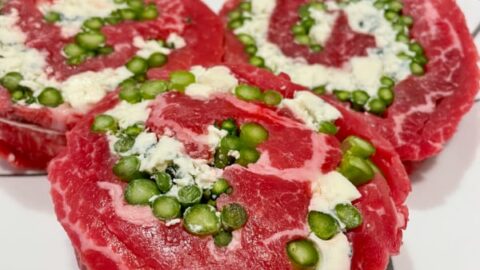 Yield:

3
How To Make Flank Steak Pinwheels
Take Your Flank Steak to a New Level - Sure you can make tacos with flank steak, but these pinwheels give the steak a fancy feeling. Carefully cradled blue cheese and asparagus make this steak dinner one to keep in your wheelhouse because its pretty easy.
Ingredients
1 Lb Flank Steak
1 cup Blue Cheese
1/2 Lb Asparagus Spears peeled
Instructions
Preheat Cast Iron Pan to Medium High Heat
Preheat Oven to 350F
Roll out your flank steak flat and season with Salt & Pepper
Lay the peeled asparagus horizontally along the length of the flank steak, almost like rail road tracks
Sprinkle Blue Cheese crumbles all along the steak in between the asparagus spears
Carefully roll the steak starting at the small end of the steak until you have a big steak pinwheel.
Using butchers twine, tie the steak in three sections about 2 inches apart
Once tied, take a very sharp knife and carefully slice three sections of the pinwheel to create your pinwheels for cooking
In the preheated cast iron pan, add a little oil and sear each pinwheel for about 2 minutes a side and then put the pan in the oven to finish cooking. About 15-20 minutes or until meat has reached your desired doneness. I took mine off at 130F and let them rest.
Move the flank steak pinwheels to a serving plate and either spoon or carefully pour the drippings over the steaks.



Recommended Products
If you enjoyed my recipe, please help support my blog by checking out my recommended products. Some of the links below are affiliate links. This means that, at zero cost to you, I will earn an affiliate commission if you click through the link and finalize a purchase. Thank you for your support!
Nutrition Information:
Yield:
3
Serving Size:
1
Amount Per Serving:
Calories:

466
Total Fat:

26g
Saturated Fat:

14g
Trans Fat:

0g
Unsaturated Fat:

9g
Cholesterol:

153mg
Sodium:

611mg
Carbohydrates:

4g
Fiber:

2g
Sugar:

1g
Protein:

53g