Crab Fries are a HUGE Deal Here in Philly.
In fact Chickie & Pete's is known for their signature Crab Fries and that awesome cheese sauce that comes along with them. Smother those crinkle cut fries dusted with Old Bay Crab Seasoning and dig in.
Simple CopyCat Crab Fries in Less Than 30 Minutes!
The best part about this recipe is in its simplicity. It is not expensive to make and is perfect to please a crowd. An added bonus is that Philly is known for Cheesesteaks and this cheesy sauce would make a perfect addition to your sandwich.
The first ingredient is something that we all have available to us – can you guess what that is? It's basically free given the amount of it I am using in this recipe. Since its so cheap to use, you are only limited on the amount of cheese you use which is where the expense comes in.
You guessed it – Water. Water is used to heat the cheese slowly as it melts and also combines well with the American Cheese.
What Type Of Cheese is Best for Crab Fries?
American Cheese is what is used here in Philly for Chickie & Pete's Crab Fries. Not just any American Cheese will do – in fact I believe they use Land O Lakes American cheese to be exact.
There is speculation on other additions Chickie's adds to make it unique, but based on the cost to make this, I wouldn't be surprised if I am right. Plus water holds well as long as you keep it from boiling.
I forget where I read that they use 2 Cups of Water for every 5lbs of Land O'Lakes American cheese.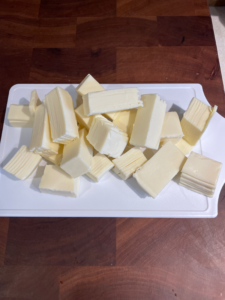 Lastly you want to get processed American cheese if you cannot find Land O' Lakes cheese. In my recipe, I just used a family pack of presliced American Cheese and cubed it up.
What Type Fries Are Best For Crab Fries?
Well any fries in my book are fantastic, especially if given something like this amazing cheese sauce to dip into.
The best type of fries to use in order to make the most coverage of cheese sauce is crinkle cut fries. All those ridges do amazingly well at catching the sauce on every dip, scoop or in my case SHOVEL into your mouth.
I chose to cheapest route when making these crab fries – I bought cheap frozen fries and used my oven to bake them as instructed on a sheet pan. 
The amount of time it takes to make the Crab Fries Sauce is about the same as cooking the crinkle fries in the oven. 20-25 minutes depending on your oven.
Are You a Philly Fan of Roast Pork Sandwiches? Try My Roast Pork Sandwich Recipe to serve along side these Crab Fries for a true Game Day crowd pleaser!
You May Also Like These Recipes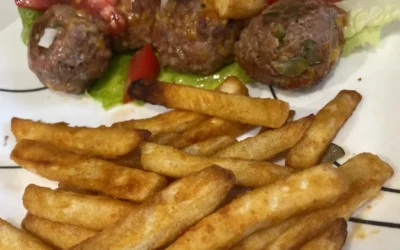 by nerdculinary | Dinner, Dinner Ideas, Lunch, Quick & Easy, Recipes
Cheeseburgers are my favorite, but totally crazy calories. These Meatballs will help with cravings! Are you looking for a simple and easy way to get in your cheeseburger cravings, than this recipe is for you. Clocking in at about 125 calories per 1.5oz meatball, they...
read more
Check Out These Pictures Showing How Easy It Is!
Get My Chickie & Pete's Crab Fries CopyCat Recipe Below: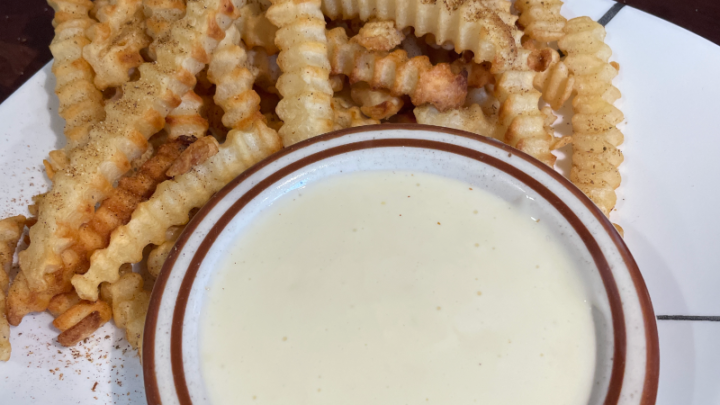 Yield:

4
How To Make Chickie & Pete's Crab Fries & Cheese Sauce
Make this Chickie & Pete's Cheese Sauce - Copycat Recipe. Looking for a copycat Chickie & Pete's Cheese Sauce for Crab fries? Try my simple recipe and you will be amazed. This cheese sauce can be saved and reheated easily.
Ingredients
12 oz of sliced or brick American Cheese, cut into little cubes
3/4 Cup warm water
1/2 Bag of Frozen Crinkle cut fries
Instructions
25 minutes all said and done with enough melty drippy American Cheese you can dip your foot into. There are no secret ingredients here, just cheese, water and a little patience.
Make Chickie & Pete's Cheese Sauce - Copycat Recipe
Heat 1/2 cup of warm water in a sauce pan but not to a boil, just steaming (185f ish)
Drop a few cubes of American Cheese at a time into the water and whisk, and whisk adding more American Cheese cubes until melted.
Slowly add more water until you get a smooth drippy consistency.
Nerdy Tip: Dip a spoon into the cheese sauce and pull it back out, the cheese should stick to the spoon and dip off pretty quickly.
Make the Crinkle Cut Crab Fries
1/2 Bag of Frozen Crinkle cut fries
In a preheated oven at 425f or air fryer 400f, cook fries until crispy
Dump fries into a bowl and shake Old Bay into the fries tossing around until coated.
Serve hot with hot cheese in small bowl.
Notes
You can use any fries you like, but crinkle cut fries are the best to catch all that cheese sauce
Recommended Products
If you enjoyed my recipe, please help support my blog by checking out my recommended products. Some of the links below are affiliate links. This means that, at zero cost to you, I will earn an affiliate commission if you click through the link and finalize a purchase. Thank you for your support!
Nutrition Information:
Yield:
4
Serving Size:
1
Amount Per Serving:
Calories:

357
Total Fat:

24g
Saturated Fat:

12g
Trans Fat:

1g
Unsaturated Fat:

9g
Cholesterol:

66mg
Sodium:

1177mg
Carbohydrates:

20g
Fiber:

1g
Sugar:

5g
Protein:

16g
Nutrition information isn't always accurate.
Did you make this recipe?
Please leave a comment on the blog or share a photo on Instagram