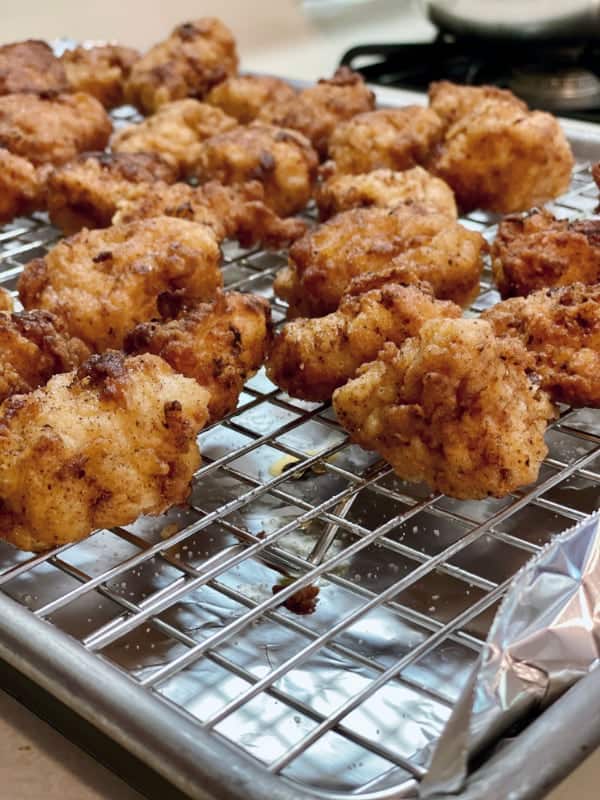 This CopyCat Chick-Fil-A Chicken Nuggets Recipe is Super Yummy
You would be hard pressed to find somebody that does not like Chick-Fil-A. They are just about have a cult like following for everything from their crispy chicken, waffle fries, and my favorite chicken nuggets.
Now I do not own the very expensive pressure oil cookers that they use to cook their chicken nuggets at my disposal, so my thought was to try this in an air fryer. Yes that was an epic failure, so out came a pot and some oil. I will have to try that again using a different recipe and tactic.

It's All About The Pickle!
So I was eating lunch the other day and I finished the last of our dill pickles and a light bulb goes off — Ding! I need to try to make Copycat Chick-Fil-A Nuggets from scratch. When I get something in my head, it stays there until completion. So off I went cubing up some organic chicken breast and into a container with about 1/2 cup of the pickle juice. To add a little fat to the party, I added some milk to the container.
Confession– it doesn't look appealing at all, so just trust me and cover the container and put it in the fridge.
How Sweet It Is?
I did a lot of poking around the internet for other foodies that have made these before and one ingredient that kept showing up over and over was confectioners sugar. Really? Now I do not work for Chick-Fil-A so who knows if they ACTUALLY use sugar in their breading, but why not give it a shot.
The breading is flour based, with chili powder, confectioners sugar, paprika, baking powder, salt and pepper. Pretty straight forward, just mix it well before coating the chicken.
Lets's Fry This Chicken Nuggets
Once you have mixed up your breading, its time to heat up your oil to about 300-325F. I find this to be adequate to ensure that the breading does not burn and the chicken is cooked through. Time to dip, dip and dunk these little gems.
What I like to do is double dip my chicken into the egg wash, then into the preheated oil. Dip your chicken into the egg wash, then the breading, then the egg wash, then the breading, and carefully place them into the oil for about 3-4 minutes or until golden brown.
Take your time and do these in batches of 6-8 nuggets, placing them on a foil lined sheet pan with a rack to allow the oil to drain. This could not be any simpler and I have to say these yummy chicken nuggets were all the rage for my family!
How To Make Copycat Chick-Fil-A Chicken Nuggets Recipe Below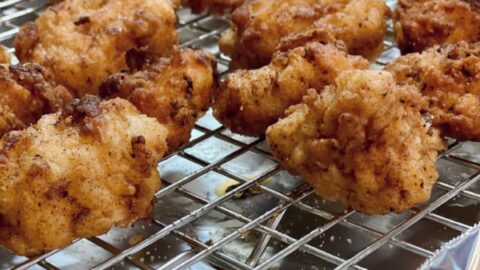 Yield:

4
How To Make Successful Copycat Chick-Fil-a Nuggets
Total Time:
1 day
50 minutes
I initially wanted to do these copycat chicken nuggets in an air fryer, but my first experiment they were not the right texture. Too moist and the breading came right off. So out came the oil for this cook. I need to tweak my recipe for it to come out better for air fryer
Ingredients
Chicken :
1 lb of chicken breast cut into 2" chunks
For The Breading :
1 cup all-purpose flour
3 Tablespoons powdered sugar
1/2 teaspoon paprika
1 teaspoon freshly ground black pepper
1/2 teaspoon chili powder
1/2 teaspoon salt
1/2 teaspoon baking powder
Chicken Marinade :
1/2 cup pickle juice
1/4 cup milk (or water)
Dip for Dredging :
1/2 cup milk
1 large egg
2 cups Peanut Oil or any neutral oil for frying
Instructions
For the Marinade:
Mix pickle juice and milk in a sealed container, add chunked chicken. Marinade overnight in the fridge
24 hours later....
Le'ts Cook!
When ready to make, combine breading ingredients in a shallow bowl, mix well
In another bowl add egg and milk and scramble.
Preheat oil in a pot to 300-325f ( 350 will burn the breading, ask me how I know)
Working in batches of about 8 nuggets, dip chicken in egg dip, then breading, then back in egg dip and back in breading
Place nuggets one at a time into the oil and fry for about 3-4 minutes. Once golden brown, remove to a sheet pan lined with foil and rack.
Repeat in batches until all the nuggets are done. Enjoy!
Notes
Pretty darn close to the real deal made at home!
Recommended Products
If you enjoyed my recipe, please help support my blog by checking out my recommended products. Some of the links below are affiliate links. This means that, at zero cost to you, I will earn an affiliate commission if you click through the link and finalize a purchase. Thank you for your support!