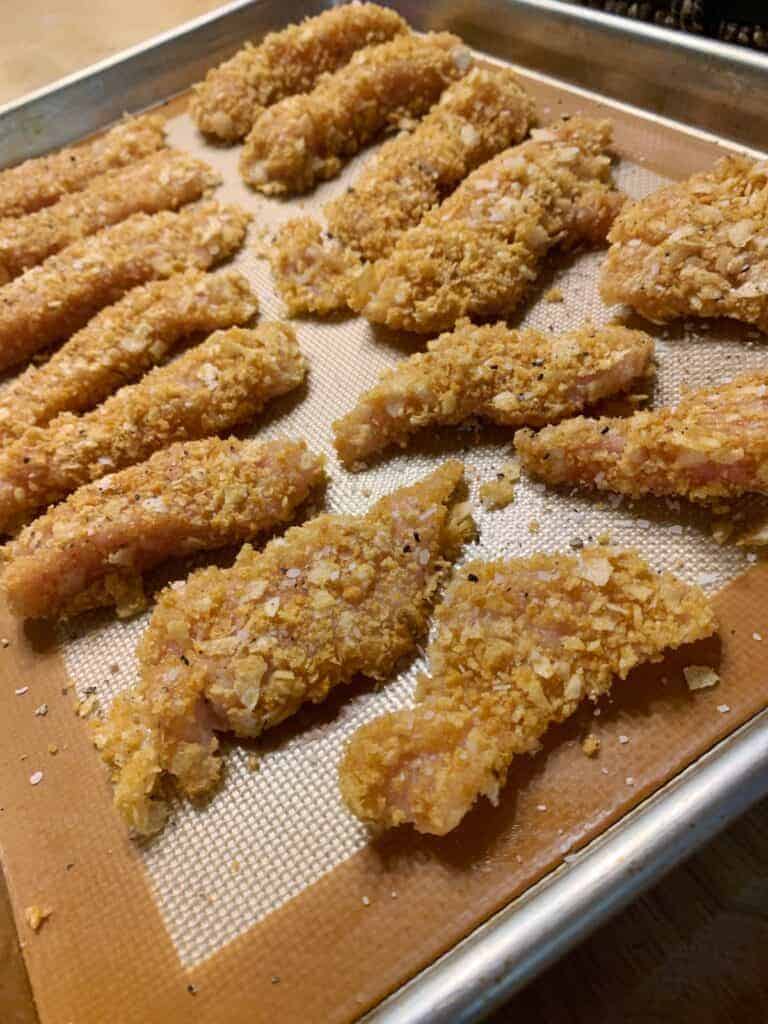 Want to Learn How to Make These Baked Chicken Tenders That The Whole Family Will Love? Potato Chips Add That Perfect Salty Crisp To Your Breading .
My family loves chicken, and especially my baked chicken tenders. Instead of buying frozen chicken tenders, try your hand at making these chicken tenders with leftover potato chip crumbs. The potato chips add a great crunch to the crust and best of all there is no waste.
Save Your Potato Chip Crumbs & Use Them For Baking Chicken 
Do you want to know how to make sure that your chicken tender breading sticks on the chicken? My nerdy secret is that I take some parchment paper and after breading the chicken, roll with a rolling pin. What rolling your breading into the chicken tenders before baking them does it pushes all that flavor into the meat.
With a Few Ingredients This Dinner Comes Together in 30 Minutes 
I love to take shortcuts in the kitchen whenever possible, so this dinner is definitely a time saver. Sheet pan meals are my favorite because they are super easy to clean and so very veristile in the kitchen.
Take out a sheet pan, line it with parchment paper then place a wire rack on top. Next take your chicken tenders and season with onion powder, garlic powder, paprika, and salt and pepper. Using a rolling pin, roll and smash the potato chips in their bag until about the size of panko breading.
Now take out a few pieces of parchment paper for the chicken, lay one piece down, and then top chicken with potato chips. Take your rolling pin and using the other piece of parchment paper, press the chips into the chicken. Lay each piece of potato coated chicken on your sheet pan evenly and bake at 375F for 25 minutes.
How To Bake Chicken Tenders Super Crispy Recipe Below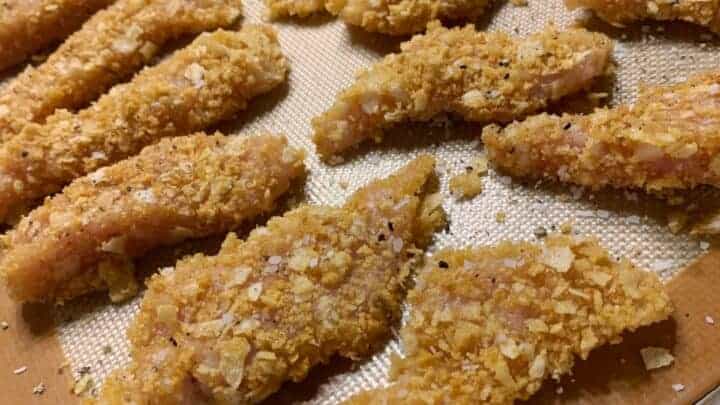 Yield:

5
Baked Potato Chip Chicken Tenders
What do you do with the end of a potato chip bag? Coat some chicken with it for a crazy good meal. Kid Approved!
Ingredients
2lbs Boneless Skinless Chicken Breast tenders
Potato Chip crumbs
1 tsp paprika
1 tsp garlic powder
1 tsp onion powder 
Salt & Pepper to taste
Instructions
Preheat oven to 375
Line a sheet pan with parchment paper and if you have a wire rack put that on top
Butterfly the chicken tender and pound flat so it's even thickness
Using a rolling pin, smash and roll potato chips crumbs a bag to make the coating. don't worry about getting everything smashed to powder, you want the some larger chunks
Layout wax paper or cling wrap and place a hand full of chips down and top it with a chicken breast
Top chicken tender with more chips and cover with wax paper or cling wrap
Using your rolling pin, roll the chicken out pressing the chips into the chicken. Add more chips if you need to.
Flip chicken over and check bottom for even coating of chips, add more if needed
Repeat with remaining chicken tenders
Arrange chicken on the sheet pan and sprinkle each with garlic powder , onion powder and paprika evenly. I like paprika so I usually add more
Place sheet pan into middle rack of oven and bake for 25 minutes or until chicken reaches 165F in the thickest part.
Serve with potatoes, green beans or your favorite side and dig in!
Recommended Products
If you enjoyed my recipe, please help support my blog by checking out my recommended products. Some of the links below are affiliate links. This means that, at zero cost to you, I will earn an affiliate commission if you click through the link and finalize a purchase. Thank you for your support!